The gallery is open Thursday – Sunday, Noon – 5pm, during exhibitions. Admission is free to the public.
50th Annual Textile Exhibit
Exhibition Dates: August 3 – September 15, 2018
Opening Reception: Friday, August 3, 2018, 7-9pm
View works from exhibit
The City of Fremont's Olive Hyde Art Gallery offers a glimpse into the textile world with inspirational textile creations at the 50th Annual Textile Exhibition running August 3 – September 5. This annual exhibit began in 1968 in recognition of the Art Center's original benefactor and Textile Art enthusiast, Olive Hyde. Primarily a quilt exhibition in its early years, this annual show features works of both traditional and contemporary artists who use textiles and fibers to create unique artworks and designs.
One of Olive Hyde Art Gallery's most popular exhibitions, the Annual Textile Exhibit features works of both traditional and contemporary artists who use textiles and fibers to create unique artworks and designs. Participating artists include: Adriane Dedic, Alice Beasley, Ann Baldwin May, Catherine Kelly, Denise Oyama Miller, Dolores Miller, Drew Matott, Emelie Rogers, Gail Sims, Ginger Summit, Giny Dixon, Ileana Soto, Jennifer Landau, Karen Balos, Kris Sazaki, Lin Schiffner, Linda Waddle, Martha Wolfe, Maureen Langenbach, Melba Vincent, Patricia Porter, P. Kay Hille-Hatten, Rashna Sutaria, Susan Helmer, and Zona Sage.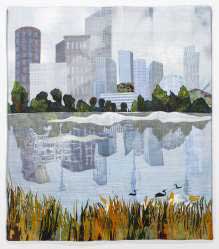 Alice Beasley
has been making portraits of people and objects since 1988. Fabric is her chosen medium of expression through which she incorporates the same light, shadow and realistic perspective used by artists in other media. Like the classical painter, her art is absorbed by an interest in the human figure and in our objects as they are presented in still life. Ultimately her goal is to celebrate the human condition in work that both intrigues and inspires the viewer. Her work,
Sunday On Lake Merritt
will be featured.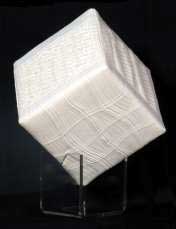 Dolores Miller
supposes that her love of textiles is in her blood. Both of her grandmothers were seamstresses; she threaded needles for her paternal grandmother for her job as a fine hand finisher and made most of her clothes as a young adult. Dolores also crocheted (her mother's passion), knitted, made macramé, hooked rugs, embroidered, oil painted, did calligraphy, stenciled— you name it, she dabbled in it. She will be featuring
Facets 2
.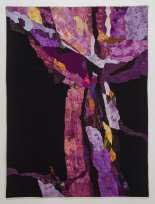 Denise Oyama Miller
, a frequent and respected exhibitor at the Olive Hyde Art Gallery, shows her unique, contemporary take on quilt-making using strong forms and contrasting colors. Miller works in a variety of styles from representational scenes to intense abstractions. She will be featuring a pair of vivid quilts,
Montage 1: Arboreal
and
Montage 2: Strata
.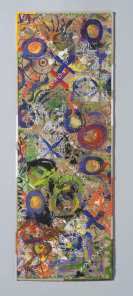 With an extensive resume and decades of experience,
Karen Balos
shows her mastery of creating visual explosions of color, patterns, and movements with textiles. Balos will be exhibiting a few pieces in the Annual Textile Exhibition, one of which is
Chroma Two
, a textile work that is a part of her Chroma series.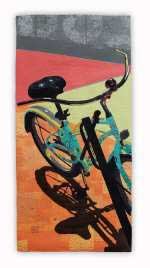 Ileana Soto
looks into the history of human culture and herself by reflecting the complexities of life with her mixed media creations. She adds alternating layers of dye, paint, and fabrics to explore these ideas while also exploring semiotics in different cultures and time periods. Soto will be featuring
Bark Codex
, which follows her artistic adventure into the use of symbols.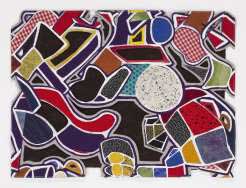 Inspired by the natural world,
Martha Wolfe
gathers photographs and uses them as a guide to create finely-detailed works, recreating the images of everyday life with colorful patterns. Wolfe will be exhibiting
Weekend
in addition to her more delicate, patterned designs.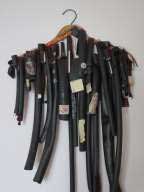 Pushing the boundaries of textile sculptures,
Zona Sage
assembles different found items and fabrics, creatively showcasing her interests and passion in social justice. Sage will be exhibiting a few of her textile works, one of which is
Venture
, a humanly-tall hanging sculpture created from bicycle inner tubes.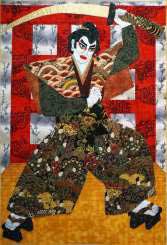 With a background in fashion design,
Adriane Dedic
highlights the art of the figure. Inspirations from both Eastern and Western art have led her to create a wide variety of stylized figures, from traditional Japanese Geishas to figures painted by Klimt. Fascinated by Japanese theatre, Dedic will be featuring
Kabuki Warrior
in this year's Annual Textile Exhibit.
Melba Vincent works in freeform fiber arts, creating subconsciously inspired pieces with crocheting and knitting.
Susan Helmer contributed to the Bay Area art scene for over a decade with her vibrant but delicate craft in silk painting. Her works feature nature, landscapes, and abstractions.
Catherine Kelly specializes in creating contemporary hand-hooked rugs, representing different subject matters with a textural flair.
The opening reception – sponsored by the Olive Hyde Art Guild – will be held on Friday, August 3 from 7:00 – 9:00 p.m. at the Olive Hyde Art Center, 123 Washington Blvd. (at Mission Blvd.) Parking is available at the municipal parking lot ½ block north of the Olive Hyde Art Center on Mission Blvd. The exhibition runs through Saturday, September 5th. Gallery Hours: Thursday through Sunday, 12noon to 5pm.
For questions, call the Olive Hyde Art Gallery at (510) 791-4357.