The gallery is open Thursday – Sunday, Noon – 5pm, during exhibitions. Admission is free to the public.
Members Juried Show
June 30 – July 29, 2017
Artists Reception: Friday, June 30, 7-9pm
Download Event Postcard
Congratulations to the artists and their artworks selected for awards by Cathy Kimball, Juror for the Members Juried Show.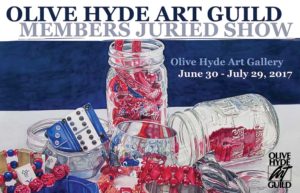 The OHAG Members Juried Show was established in 2001 and occurs every other year. It offers an opportunity for artists in the Guild to enter up to four works of art for judging and, if selected, to be part of the Gallery exhibit. The show is not restricted to any particular medium and is juried by outside art professionals not associated with the Guild.
This year's show promises to be an exhilarating exhibition of two and three dimensional art by 33 local artists. The 70 pieces chosen for the exhibit from 143 entered were judged on originality and quality by well-known Bay Area expert Cathy Kimball, Executive Director and Chief Curator at the San Jose Institute of Contemporary Art. Recipients of Best of Show, 2nd Place, 3rd Place, and up to three Merit Awards will not be announced until the opening reception on June 30. The selection of these Awards will be made by Cathy Kimball just prior to the opening reception, and a "Peoples' Choice" Award will be voted on by those attending the reception.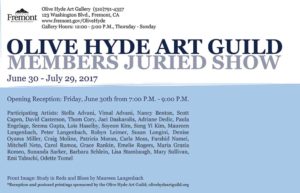 Also at the reception, an original watercolor by the late Ted Harpainter, will be presented as a Silent Auction item. Mr. Harpainter passed away in 2011 and was a recognized Bay Area landscape architect and watercolor artist who, in 1960, became the first Superintendent of Public Parks for the newly incorporated City of Fremont. Throughout his career, Mr. Harpainter exhibited in many Northern California art shows and galleries receiving numerous awards in major juried shows. The watercolor, a Lake Tahoe Winter scene donated to the Guild from the estate of Bill and Mary Alice van Doorn, will be on display during the reception.
The public is invited to meet the artists and enjoy an evening of art, music provided by NSQ (Newark Saxophone Quartet) at the reception. The following artists will be exhibiting in this year's show: Stella Advani, Vimal Advani, Nancy Benton, Scott Capen, David Casterson, Thom Cory, Jaci Daskarolis, Adriane Dedic, Paula Engelage, Seema Gupta, Lois Haselby, Soyeon Kim, Sung Yi Kim, Maureen Langenbach, Peter Langenbach, Robyn Leimer, Susan Longini, Denise Oyama Miller, Craig Moline, Patricia Moran, Carla Moss, Farshid Namei, Mitchell Neto, Carol Ramos, Grace Rankin, Emelie Rogers, Maria Grazia Romeo, Sunanda Sarker, Barbara Schlein, Lisa Stambaugh, Mary Sullivan, Emi Tabuchi, and Odette Turmel.
49th Annual Textile Exhibition
August 11 – September 23, 2017
Artists Reception: Friday, August 11
Call to Artists