About Olive Hyde Art Guild
The Olive Hyde Art Guild, a not-for-profit organization, supports the City-owned Gallery through volunteer activities and funding for special exhibits and projects. The Guild sponsors art education programs in the schools and provides art scholarships and awards for local students.
Guild Mailing Address: P. O. Box 3073
Fremont, CA 94539
Exhibits
Ingrid V Wells Emotional Support Paintings
Virtual Exhibit: Thursday, November 2 – Saturday, December 16
Exhibition Dates: Thursday, November 9 – Saturday, December 16
Opening Reception: Friday, November 17, 2023 (7-9 pm)
The Gallery is open Thursday-Sunday, 12 noon – 5pm during exhibitions.
Next Exhibit: Call to Artists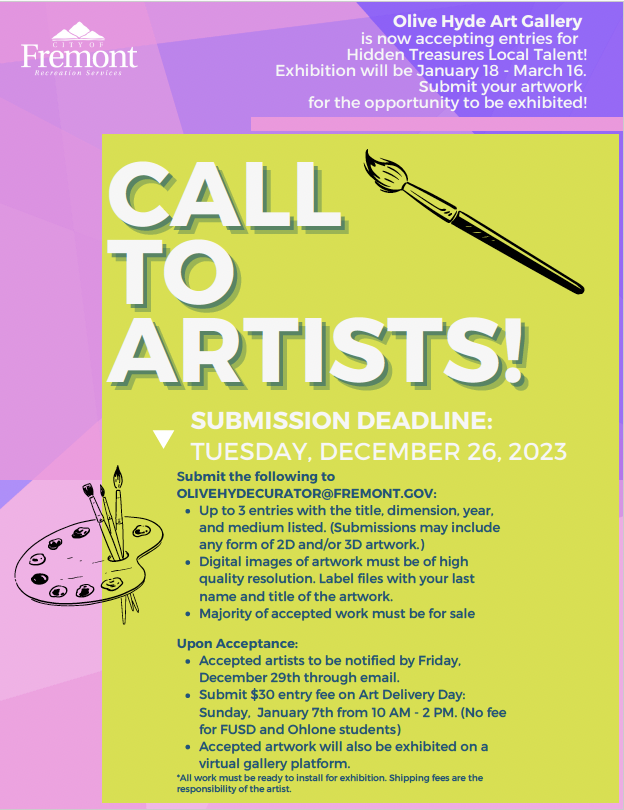 Thanks to our 2023 Holiday Show sponsors:

The Anderson Family Foundation
Kalyanpur Family Giving Fund
Mahuron Family Fund

Program: de Young Museum
Thursday, November 30
The de Young Open 2023 is the Fine Arts Museums of San Francisco's second triennial juried community art exhibition, featuring work by artists from the nine Bay Area counties.
Several Olive Hyde Art Guild member artists have pieces featured in the show: Adriane Dedic, Robyn Leimer, Denise Oyama Miller, and Farshid Namei. Congratulations to all!
Holiday Show & Sale
Our Holiday for the Arts Show & Sale benefits the Olive Hyde Art Gallery and other visual art projects in the Fremont community and schools.
Olive Hyde Art Guild
Holiday for the Arts 2023
Thanks to everyone who attended, volunteered, and contributed to our very successful event this year, starting with the October 20 Gala, and the show and sale on October 21 and 22.
We look forward to seeing you there next year!