About Olive Hyde Art Guild
The Olive Hyde Art Guild, a not-for-profit organization, supports the City-owned Gallery through volunteer activities and funding for special exhibits and projects. The Guild sponsors art education programs in the schools and provides art scholarships and awards for local students.
Guild Mailing Address: P. O. Box 3073
Fremont, CA 94539
Art of the Mission Church
Join us on Thursday, September 21 for September's program to learn more about the art at the Mission Church. Lunch at Mission Coffee, followed by a docent tour.
Exhibits
The Olive Hyde Art Gallery proudly presents its 53rd Annual Textile Exhibition. Artwork will showcase a variety of textile techniques, including quilting, tufting, off-loom weaving, needle felting, sculpture, and wearables.
Our Galleries
The Gallery is open Thursday-Sunday, 12 noon – 5pm during exhibitions.
We invite you to explore our current exhibit in the virtual gallery.
53rd Annual Textile Exhibit
Gallery Exhibition Dates: August 17 – October 7
Reception: August 25, 7-9 pm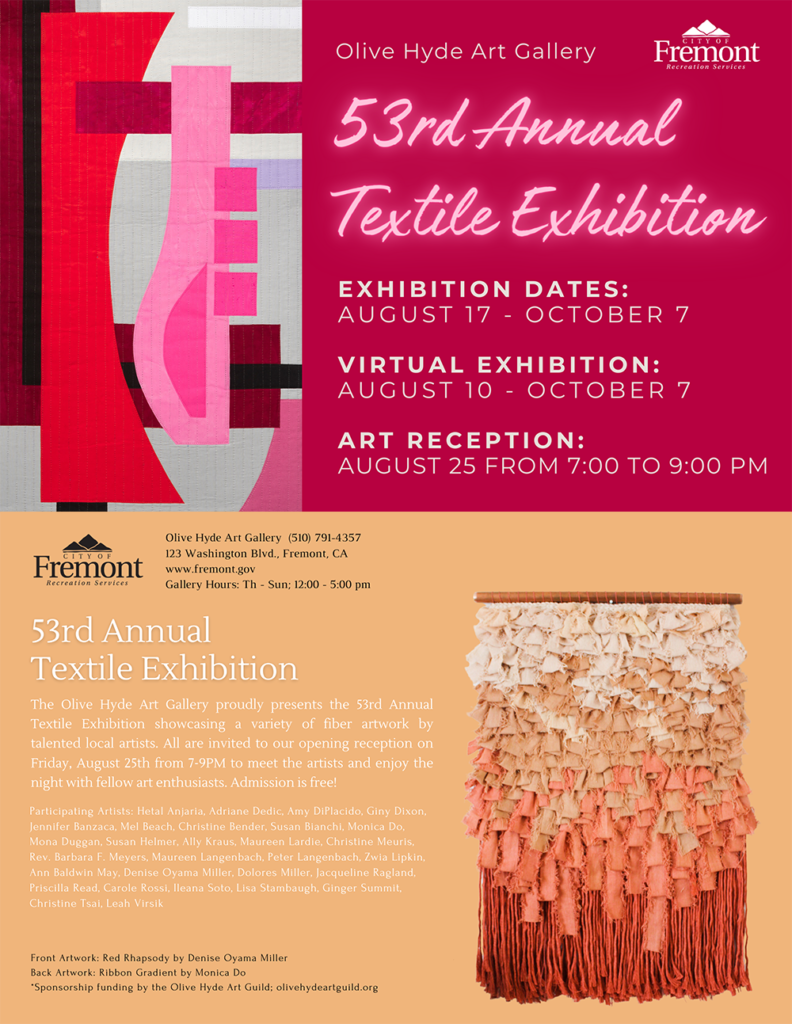 Thanks to our 2023 Holiday Show sponsors:

The Anderson Family Foundation
Kalyanpur Family Giving Fund
Mahuron Family Fund

Business Members
Business Members of the Olive Hyde Art Guild are making a valuable investment in the cultural life of Fremont! They support the community by promoting an interest in and appreciation for visual arts, supporting art education in the local schools, youth scholarships, and youth art awards, and assisting with programs and activities.
Holiday Show & Sale
Our Holiday for the Arts Show & Sale benefits the Olive Hyde Art Gallery and other visual art projects in the Fremont community and schools.
Olive Hyde Art Guild
Holiday for the Arts 2023
Friday Night Gala: October 20, 5:30-9 pm
Show & Sale: Saturday, Oct. 21 – Sunday, Oct. 22