Current & Upcoming Exhibits
The Gallery is open Thursday-Sunday, 12 noon – 5pm during exhibitions.
We invite you to explore our current exhibit in the virtual gallery.
For questions, call the Olive Hyde Art Gallery at (510) 791-4357.
Annual Textile Exhibition
Virtual Exhibit: Thursday, August 10 – Saturday, October 7
In-Person/Gallery Exhibition Dates: Thursday, August 17 – Saturday, October 7
Opening Reception: Friday, August 25, 2023 (7-9 pm)
The Olive Hyde Art Gallery proudly presents its 53rd Annual Textile Exhibition. This year's exhibition will feature fiber art from 29 new and returning local artists from throughout the Bay Area and Northern California. Artwork will showcase a variety of textile techniques including quilting, tufting, off-loom weaving, needle felting, sculpture, wearables, and much more.
All are invited to the opening reception August 25 from 7-9 pm to meet the artists and enjoy the night with fellow art enthusiasts. Light refreshments and sponsorship will be provided by the Olive Hyde Art Guild; olivehydeartguild.org.
Featured artists include: Hetal Anjaria, Adriane Dedic, Amy DiPlacido, Giny Dixon, Jennifer Banzaca, Mel Beach, Christine Bender, Susan Bianchi, Monica Do, Mona Duggan, Susan Helmer, Ally Kraus, Maureen Lardie, Christine Meuris, Rev. Barbara F. Meyers, Maureen Langenbach, Peter Langenbach, Zwia Lipkin, Ann Baldwin May, Denise Oyama Miller, Dolores Miller, Jacqueline Ragland, Priscilla Read, Carole Rossi, Ileana Soto, Lisa Stambaugh, Ginger Summit, Christine Tsai, Leah Virsik.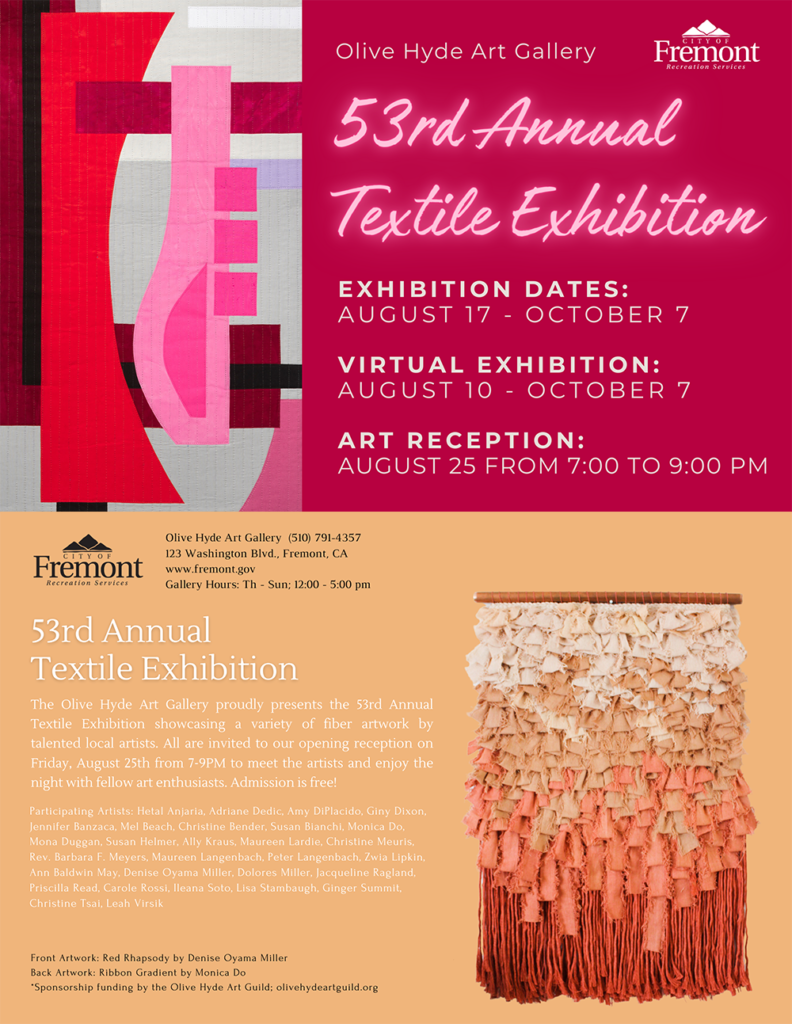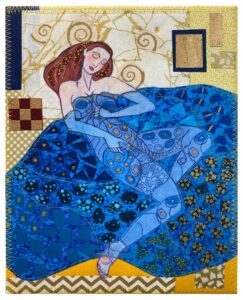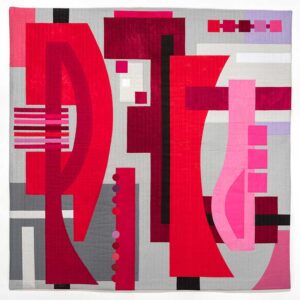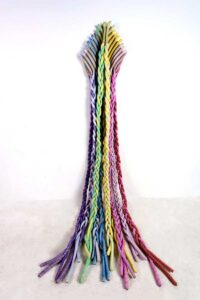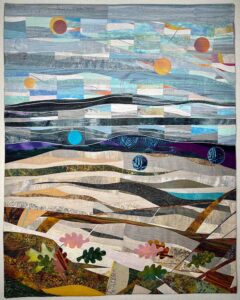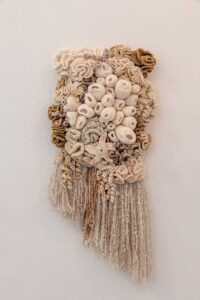 Holiday for the Arts Show & Sale
Gala – Friday, October 20
Show and Sale, Saturday-Sunday, October 21-22
Ingrid Wells Emotional Support Paintings
Virtual Exhibit: Thursday, November 2 – Saturday, December 16
Exhibition Dates: Thursday, November 9 – Saturday, December 16
Opening Reception: Friday, November 17, 2023 (7-9 pm)
2024 Exhibit Calendar
Hidden Treasures / Local Talent
Virtual Exhibit: Thursday, January 11 – Saturday, March 16
Exhibition Dates: Thursday, January 18 – Saturday, March 16
Opening Reception: Friday, January 26 (7-9 pm)
Human Essence
Virtual Exhibit: Thursday, March 28 – Saturday, May 25
Exhibition Dates: Thursday, April 4 – Saturday, May 25
Opening Reception: Friday, April 12 (7-9 pm)
Scholarship Awards Reception: Friday, May 17 (7-9 pm)
Textile Exhibition
Virtual Exhibit: Thursday, June 6 – Saturday, August 3
Exhibition Dates: Thursday, June 13 – Saturday, August 3
Opening Reception: Friday, June 21 (7-9 pm)
NCWCA Group Sculpture Exhibition
Virtual Exhibit: Thursday, August 8 – Saturday, October 5
Exhibition Dates: Thursday, August 15 – Saturday, October 5
Opening Reception: Friday, August 23 (7-9 pm)
Holiday for the Arts Show and Sale
Gala Friday, October 18
Show October 19 – 20
TBD
Virtual Exhibit: Thursday, October 31 – Saturday, December 14
Exhibition Dates: Thursday, November 7 – Saturday, December 14
Opening Reception: Friday, November 15, 2023 (7-9pm)