Current & Upcoming Exhibits
For questions, call the Olive Hyde Art Gallery at (510) 791-4357.
Members Juried Show
Virtual Exhibit: Thursday, March 30 – Saturday, May 27
In-Person/Gallery Exhibition Dates: Thursday, April 6 – Saturday, May 27
Opening Reception: Friday, April 14, 2023 (7-9 pm)
Learn more about the Members Juried Show
I Dream of Color
Featuring paintings and textiles by the San Francisco-based artist Jennifer Banzaca.
Virtual Exhibit: Thursday, June 8 – Saturday, August 5
In-Person/Gallery Exhibition Dates: Thursday, June 15 – Saturday, August 5
Opening Reception: Friday, June 23, 2023 (7-9 pm)
Jennifer Banzaca is a painter and designer living in San Francisco. After graduating from the Art Institute of Chicago (BFA), she went on to live in New York and San Francisco, working as a digital designer for animation and children's book publishing. In 2004 she resumed her painting practice and continued studies at the Art Students League and the New York Academy of Art.
Her current practice focuses on color-based abstract painting and textile art, with diverse influences from botanical shapes and textures, to surface patterns and decorative design. Jennifer has exhibited in the Pacific Northwest, The Bay Area, and internationally. She is currently represented by Voss Gallery in San Francisco.
Artist's Statement
Engaging with paint as a daily practice helps me build my own universe. I paint colorful fantasies that incorporate shape and pattern in an abstract fashion. Using a process of layering with varying degrees of transparency, I create a world of color and abundance.
My early career as a designer for print and animation informs my approach. I spent years looking at and manipulating imagery used in children's entertainment. I apply that sense of saturated color and energy in my paintings, exploring shape, color, and light in a playful way. I use water-based media to build up layers of vibrant color. Recently I have expanded my work into creating tufted tapestry. Painting with yarn has become a natural extension of my art practice and my desire to create colorful environments.
A variety of themes determine a shape of a series. Vaudeville, classic cinema, botany, and pattern design inform past themes. As I find new and better ways to express myself, the more vibrant my universe becomes.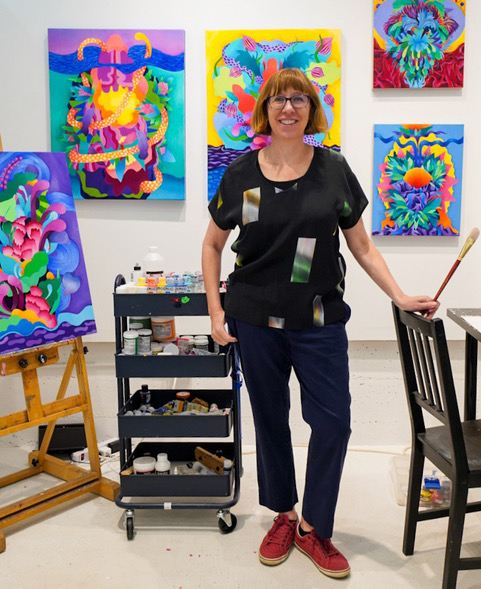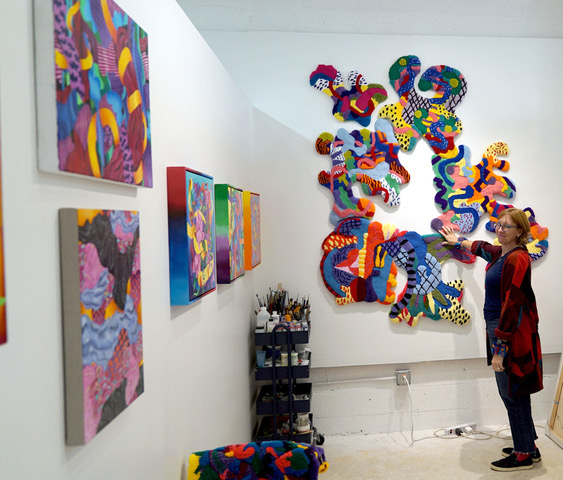 Annual Textile Exhibit
Virtual Exhibit: Thursday, August 10 – Saturday, October 7
In-Person/Gallery Exhibition Dates: Thursday, August 17 – Saturday, October 7
Opening Reception: Friday, August 25, 2023 (7-9 pm)
Holiday for the Arts Show & Sale
Gala – Friday, October 20
Show and Sale, Saturday-Sunday, October 21-22
Exhibit TBD
Virtual Exhibit: Thursday, November 2 – Saturday, December 16
Exhibition Dates: Thursday, November 9 – Saturday, December 16
Opening Reception: Friday, November 17, 2023 (7-9 pm)