38th Annual Holiday for the Arts Show & Sale


Proudly Presents
Holiday for the Arts 2022
Gala: Friday, October 21, 5:30 – 9:00 pm
Show & Sale: Saturday, October 22 & Sunday, October 23, 10 am-5 pm
Olive Hyde Art Guild's "Holiday for the Arts" Show & Sale benefits the Olive Hyde Art Gallery and other visual art projects in the Fremont community and schools. The show is held annually and opens with a ticketed Gala on Friday night featuring hors d'oeuvres, sweets, and wine, with the first viewing and sale of art. On Saturday and Sunday, the show is open to the public without charge.
Our Featured Artist this year is Peter Langenbach. Attend the Gala for a chance to win an original sculpture by Peter! He's bringing two wonderfully creative pieces, and the winner will be able to choose which one they want.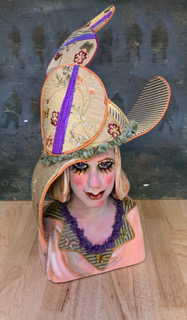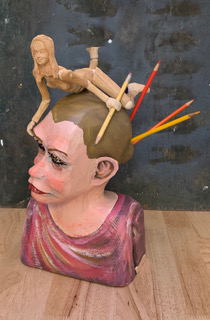 About the "Holiday for the Arts" Show & Sale
After almost three years of hiatus, we are super excited to bring back our "Holiday for the Arts" event, this year in October, just in time to kick off the holiday season. This would be our 38th year of celebrating. Make sure to mark your calendars for this long-awaited opportunity to party, mingle with friends, view, and purchase artifacts for yourself, and for all those on your holiday shopping list who enjoy receiving an original piece of art for a gift.
The three-day affair begins with a spectacular Friday Night Gala, on October 21st, from 5:30 – 9:00 pm, featuring specialty food and drink offerings, along with the first viewing and sale of art. Tickets are $15 for members purchased in advance, and $20 for non-members and at the door. On Saturday, October 22nd and Sunday, October 23rd, the show is open to public, free of charge, from 10:00 am to 5:00 pm.
Live music entertainment will be provided by Steve Kritzer on Strings. A "man of many musics", Steve is an award winning singer-songwriter, entertainer, multi-instrumentalist, instructor, and jam leader, amassing a large and loyal following at coffeehouses, wineries, festivals, and schools, between the West Coast and Ireland.
The Gala Night also includes a drawing for an original sculpture donated by our featured artist, Peter Langenbach, whose works have been displayed at many exhibitions. Peter's art is about humor: he uses visual puns to take cheap shots at the folly, foibles, and pretensions of the human condition. In contrast to the light-heartedness of his works, though, he only uses recycled materials – hoping to draw attention to the importance of preserving our natural resources and the myriad ways in which we can use discarded objects to create beauty.
Our signature community event, and the only fundraiser, Holiday Show & Sale pays for art programs and supplies in local schools, art scholarships for High School and Ohlone College students, art books for public library, special art workshops for developmentally disabled adults, capital improvements at the Olive Hyde Art Gallery, special exhibits, and gallery promotions for all exhibits.
Close to seventy local artists from around the Bay Area will be participating this year, with a wide array of works in Ceramics, Glass & Sculpture, Paintings, Photography, Jewelry, Fiber, Gourds & Masks, Wood, and Holiday décor. Each artist was selected to participate through a judging process, including twenty who are new to the show. We will have the pleasure of viewing their works for the first time, in addition to numerous long time favorites such as Akio Aochi, Kay Hille-Hatten, Barbara Schlein, Susan Helmer, Adriane Dedic, Denise Oyama Miller, and many more, who will be returning with their new creations for sale.
Having missed out on the fun during the past two years due to pandemic, we are especially looking forward to this year's celebrations. Hope to see you all there!
How Funds are Used
As both our signature community event and only fundraiser, the annual Holiday for the Arts show and sale plays a key role in our Guild's sustainability each year.
Your support of this event makes it possible for the Olive Hyde Art Guild to contribute in the following ways:
Capital improvements at the Olive Hyde Art Gallery & Center
Cost of printing and mailing of publicity postcards announcing each exhibit at the Olive Hyde Art Gallery
Special exhibits at the Olive Hyde Art Gallery
Scholarships for high school seniors and Ohlone students and classroom art supplies for the first place scholarship winner's art teacher
Serra Center Art Workshop for developmentally disabled adults and for framing of their artwork
To the Alameda County Fremont Library for purchase of children's art books
To Abode Services for children's art supplies
COF Human Services Youth & Family Services awards for Children's Mental Health Awareness Day Art Competition
The Guild also donates the cost of the printing of the postcards sent to announce each gallery exhibit, for banners publicizing the events, and for Olive Hyde Gallery improvements.
Thanks to our 2022 Holiday Show sponsors:

The Anderson Family Foundation
Mahuron Family Fund
Kalyanpur Family Giving Fund


In-Kind Community Contributions
Catering by Gael
DasBrew
Forest & Flour
Milk & Honey Cafe
Mission Coffee Roasting Co.
Nothing Bundt Cakes
Olive Garden
Papillon
Red Lobster
Rubino Estates Winery
Safeway
Smart & Final Foundation
Spin A Yarn Steakhouse
Strizzi's
Trader Joe's
Vintage Catering