Note: Program field trips are a members-only benefit. Join the Olive Hyde Art Guild and experience friendship and fun on our next field trip!
Old Mission San Jose Church Art
September 21
Our September program was such an informative look inside the reconstructed church. We were fortunate to be led by Jurek Zarzycki, an OHAG member and also a volunteer docent at the Old Mission San Jose. He is very knowledgeable about the many types of art inside the church that date from the last few centuries and was given permission to take us behind the sacristy to view some other special art. This event was a real treat for the twenty-two people who attended.
Check back soon for future programs.
Photo credit: Shirley Kwan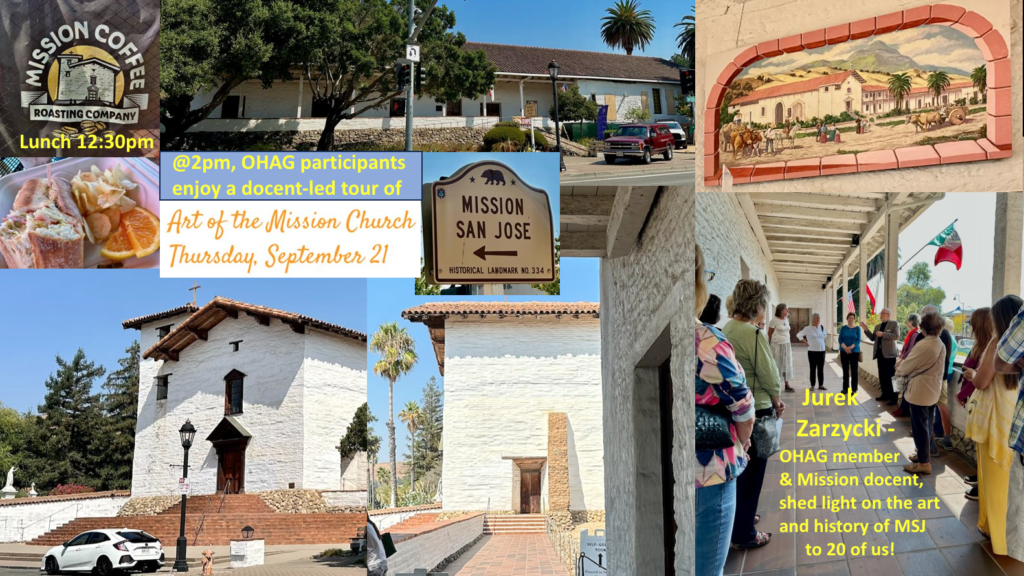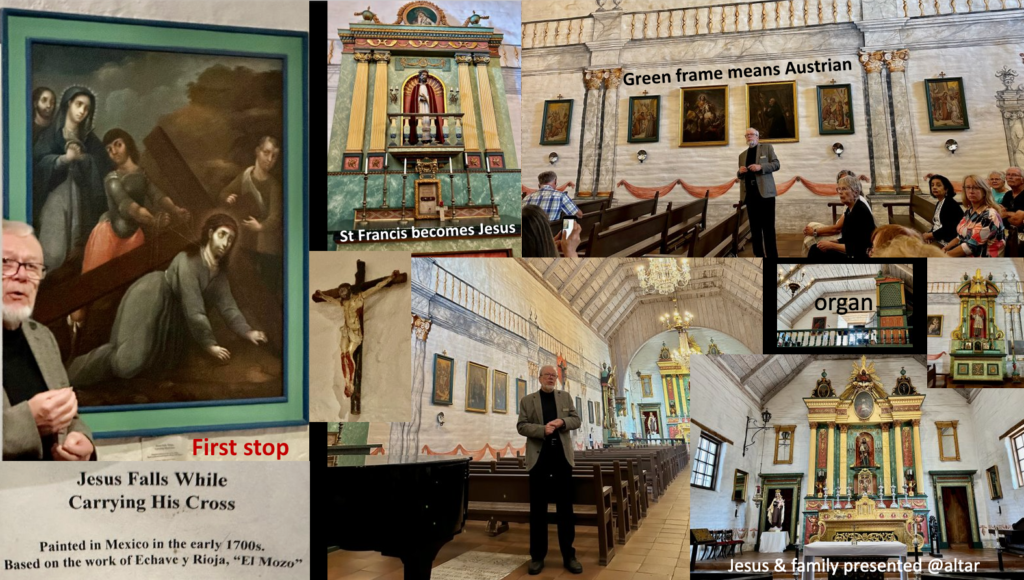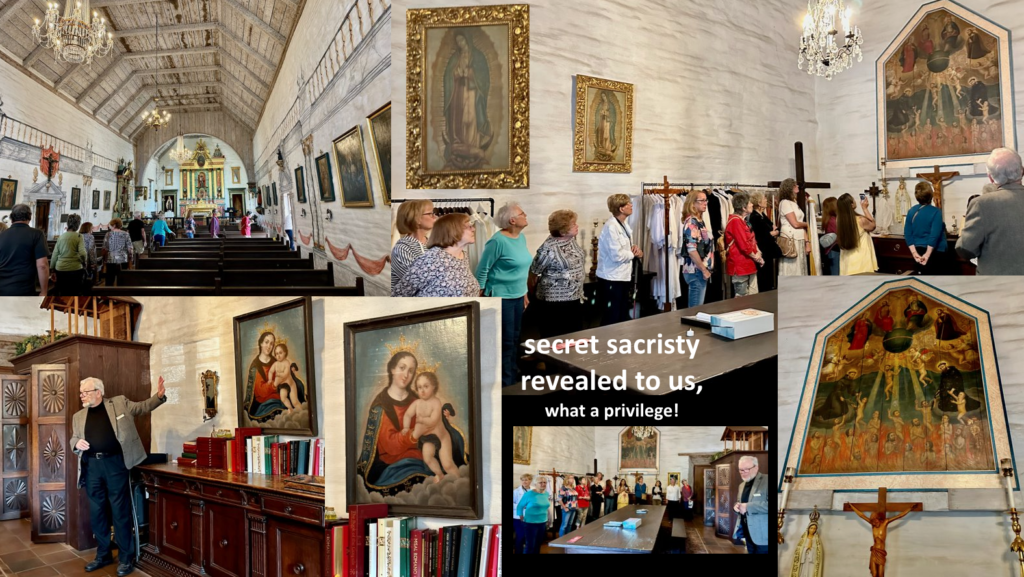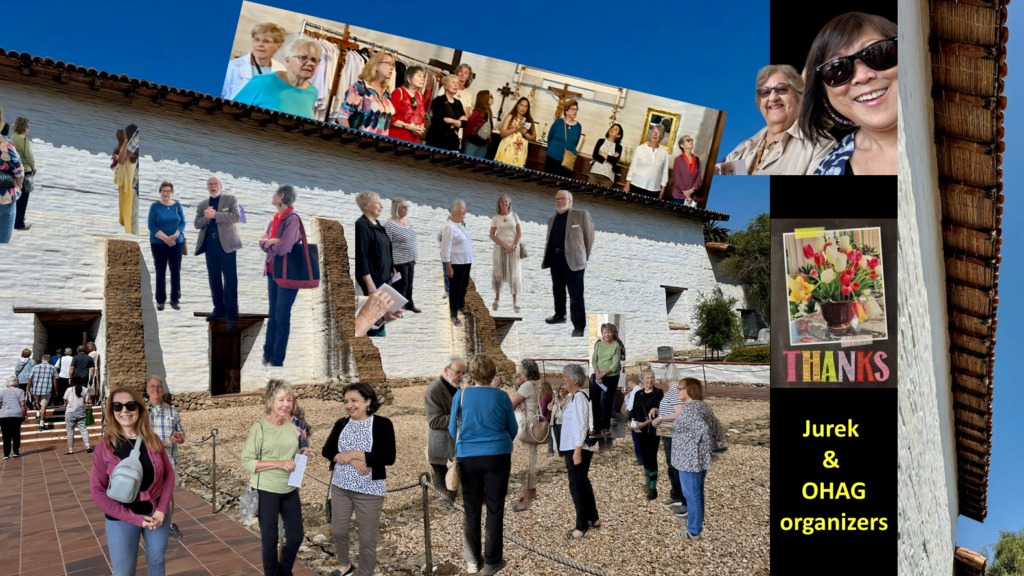 Creativity Through Tufting
Thursday, July 13
An art form that is gaining in popularity was presented for our July program. Jennifer Banzaca, who was the current show artist in the gallery, demonstrated how she creates her fanciful art. We were able to walk around to see the front and the back of cloth as she used her tools to do her tufting on the canvas. She explained the process of preparing the finished product after the tufting has been completed. This is a fairly new way of expressing her artistic self. After the program we were able to see her works of art in the gallery which was very interesting, as we could see the similarities and differences in her painting and tufting and how she combined them.
You can read much more about Jennifer Banzaca and her art in the May newsletter.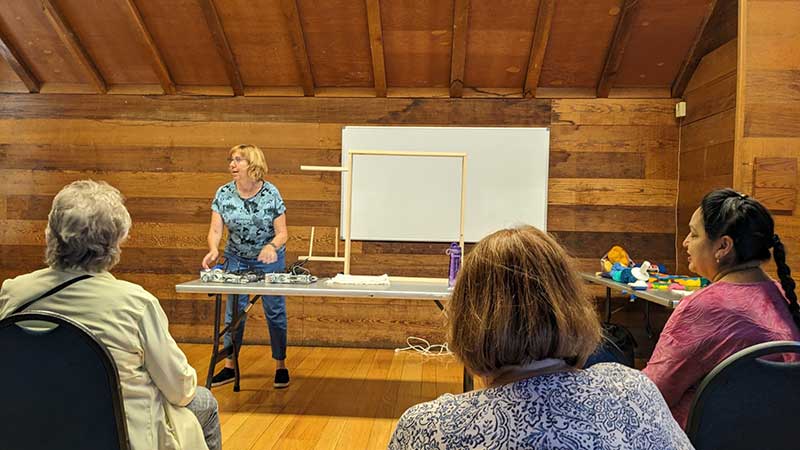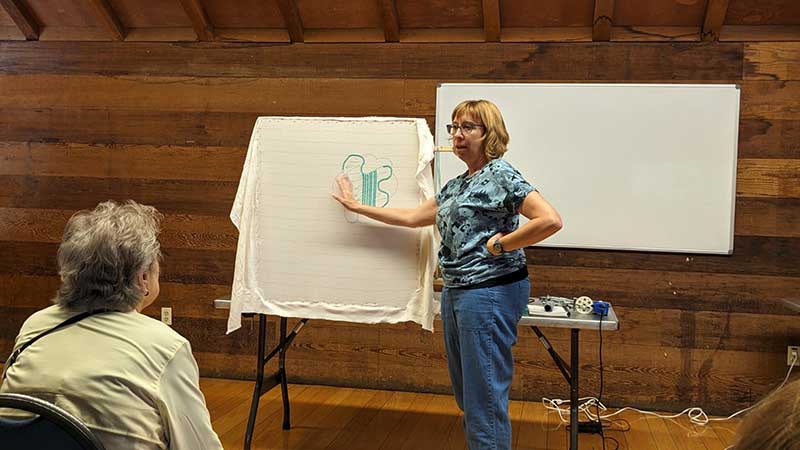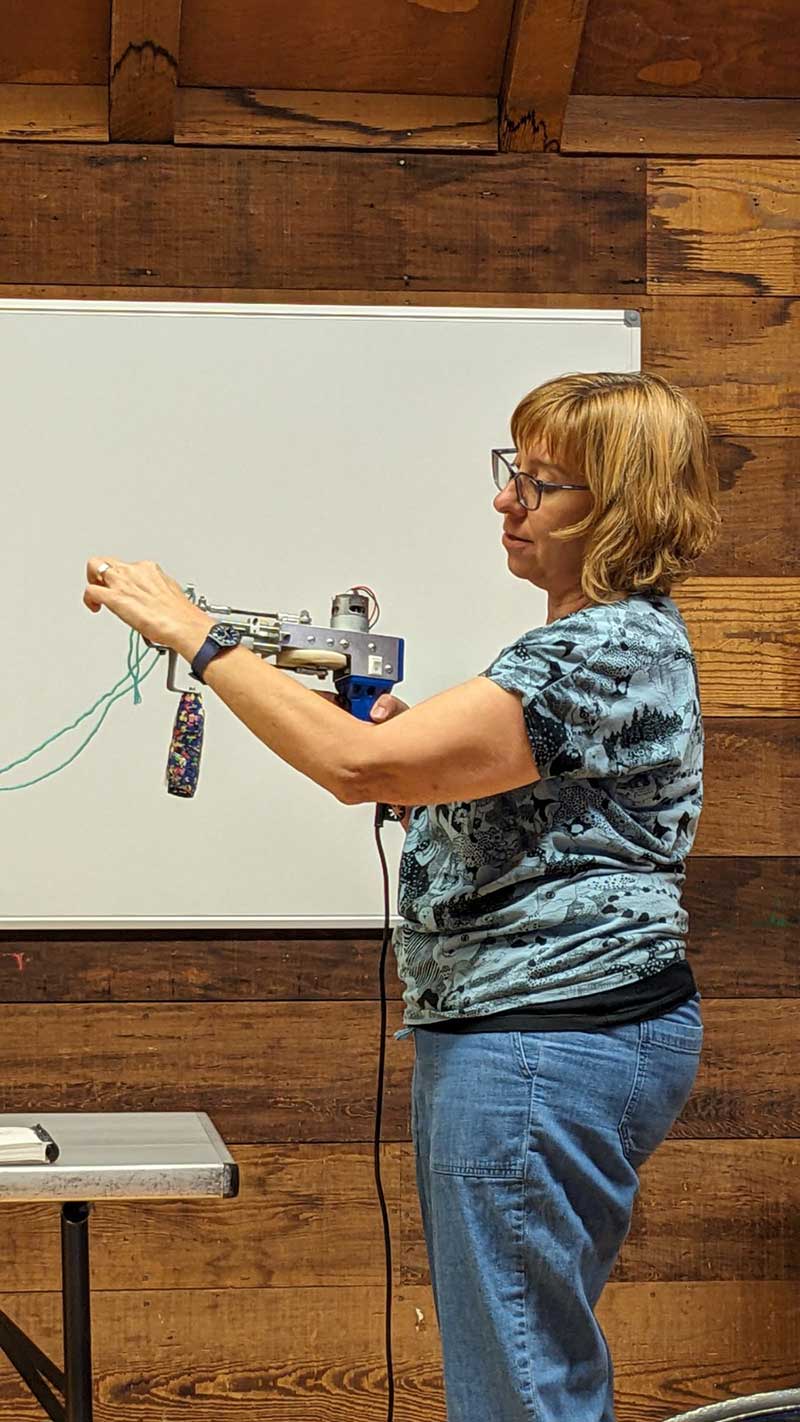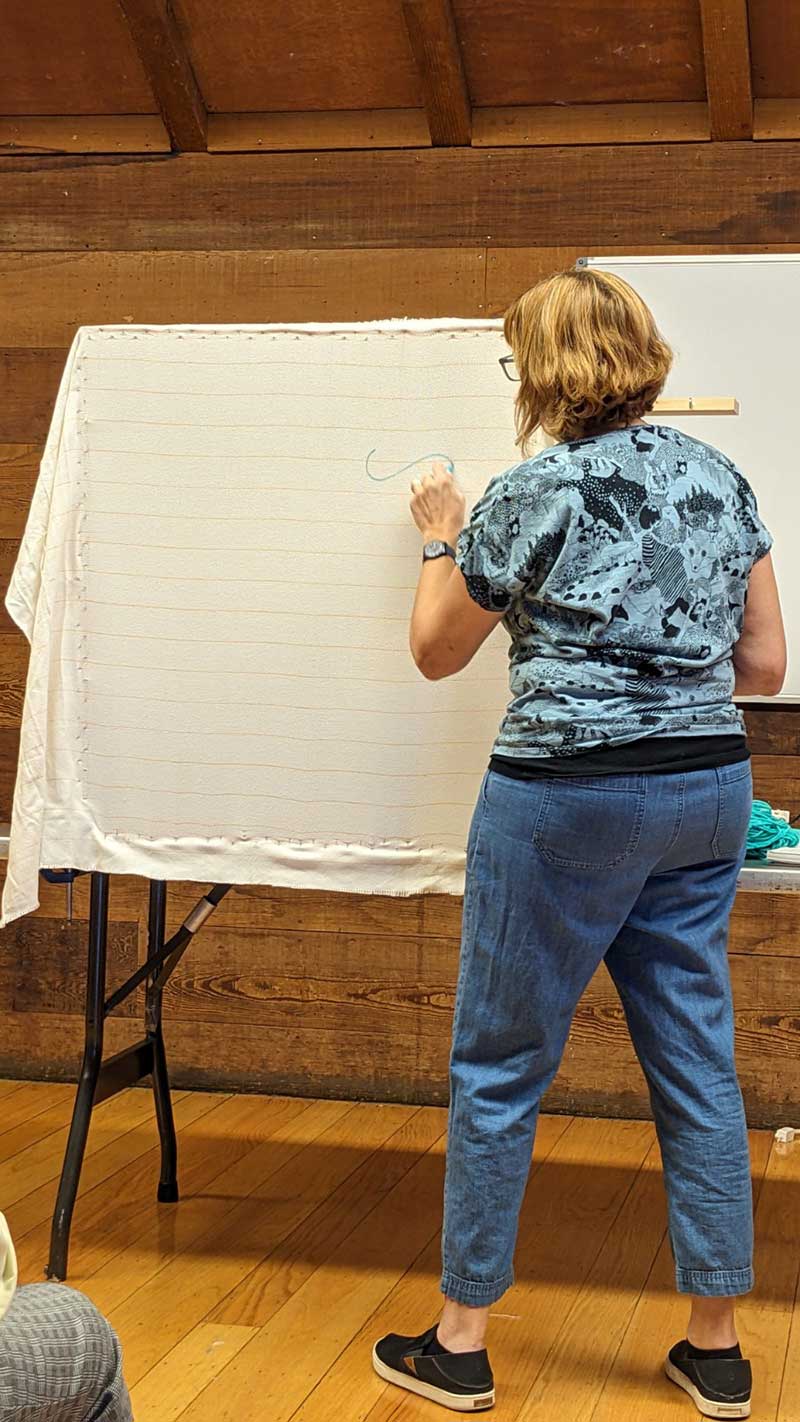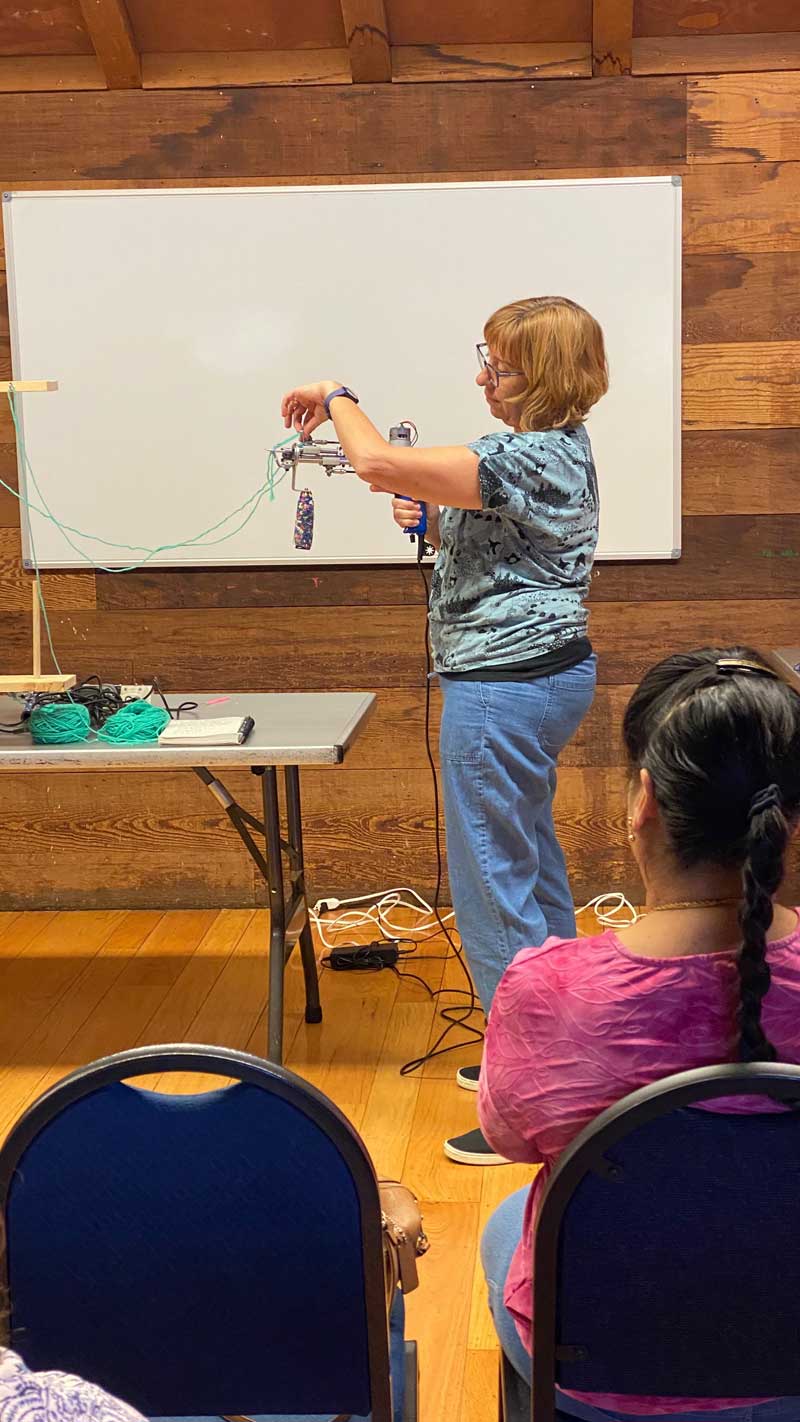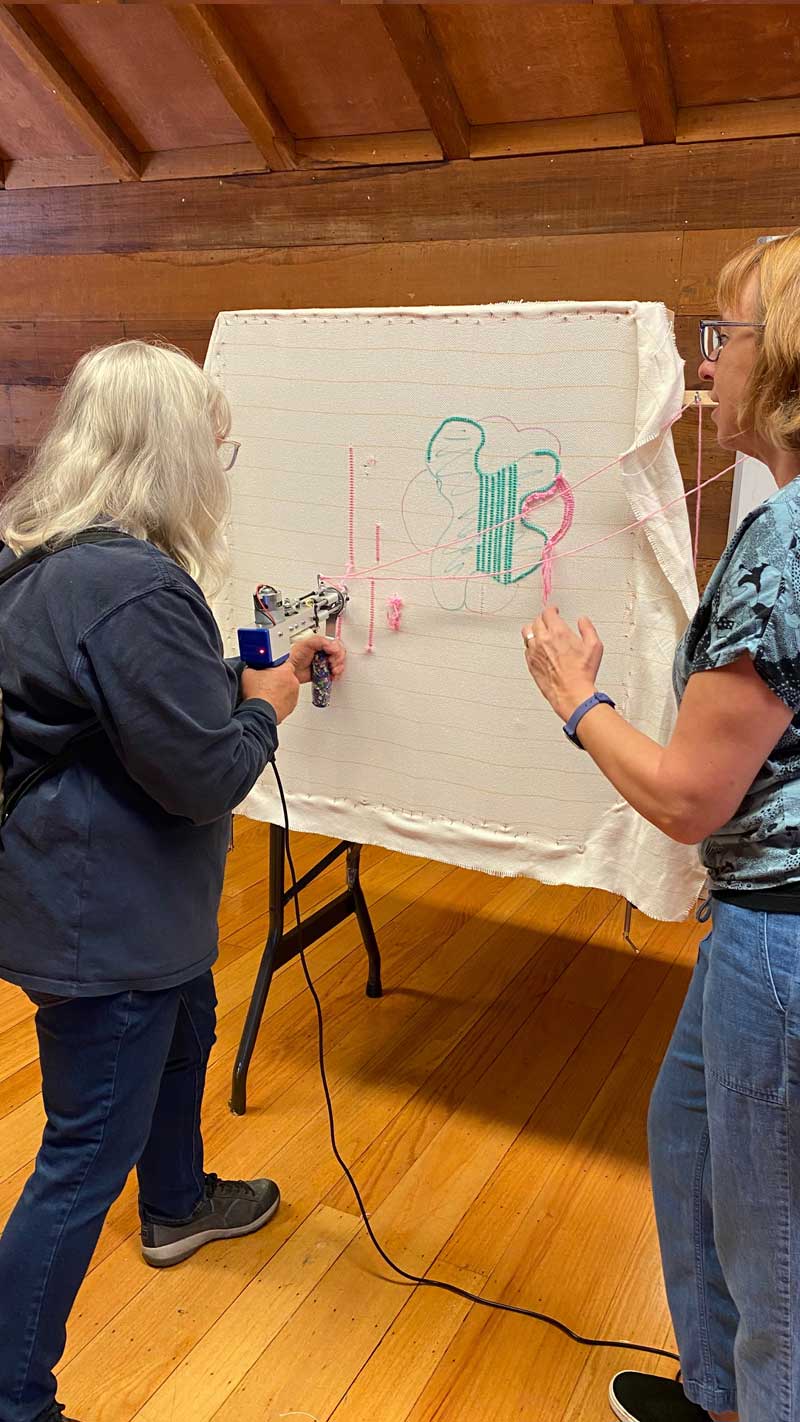 Two New Talents Learned
How lucky our recent program participants were! During one week we were able to learn the art of assemblage and how to improve our photo talents.
Michael Sunzeri, who has an extensive art background, explained to a full Mission Room the method he uses in producing his artistic objects. We were able to incorporate the many preused objects he brought, as well as our own, to create items for our walls, tables, or yards. It was fun to see the individual projects and how even those who didn't consider themselves as creative artists could make very interesting and meaningful items.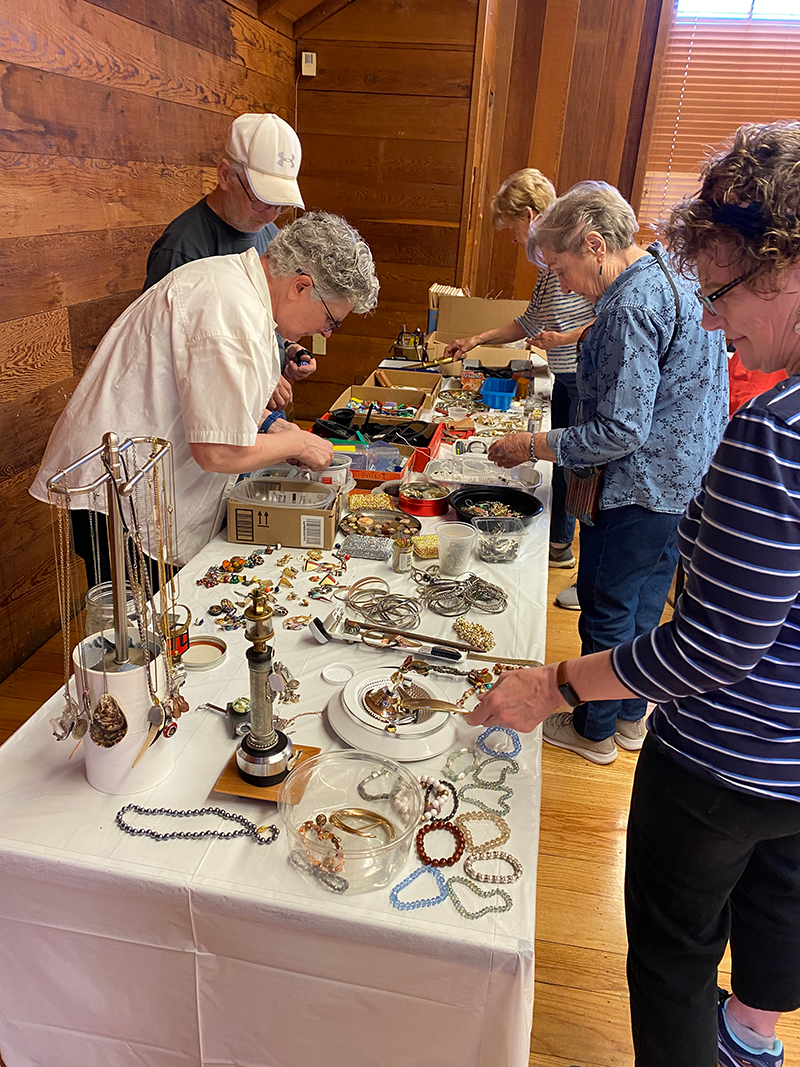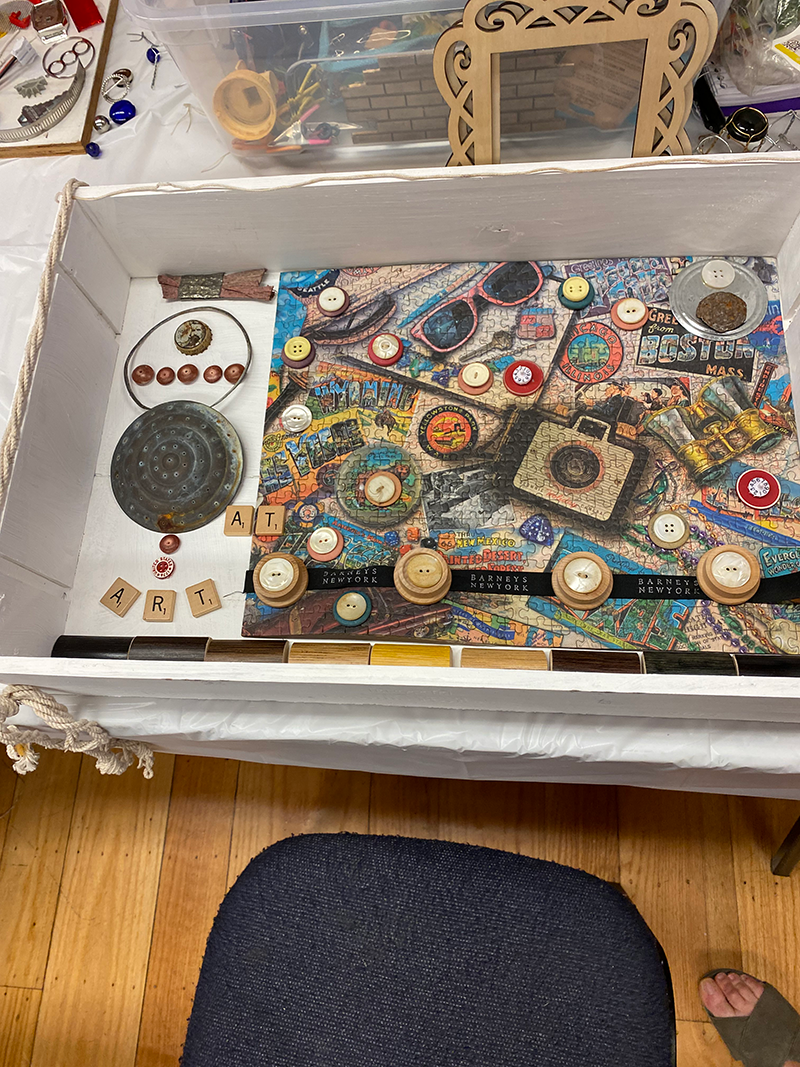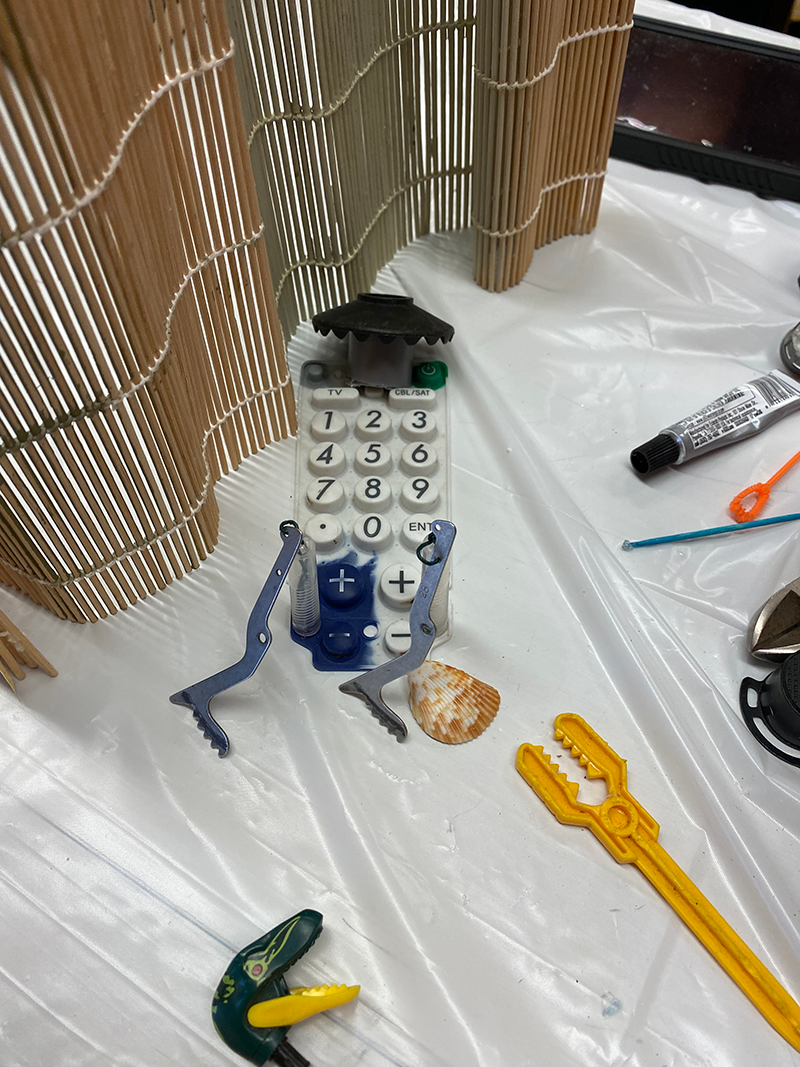 Scott Capen, a professional photographer, and valued OHAG member, led us on a photography tour of Shinn Historical Park and Arboretum. He gave us helpful advice for taking photos. He explained to us photo options on our phones that some of us didn't know we had. It was a beautiful day outside as the rain stopped just for us, and the sun came out to make the many flowers and trees at the park so beautiful.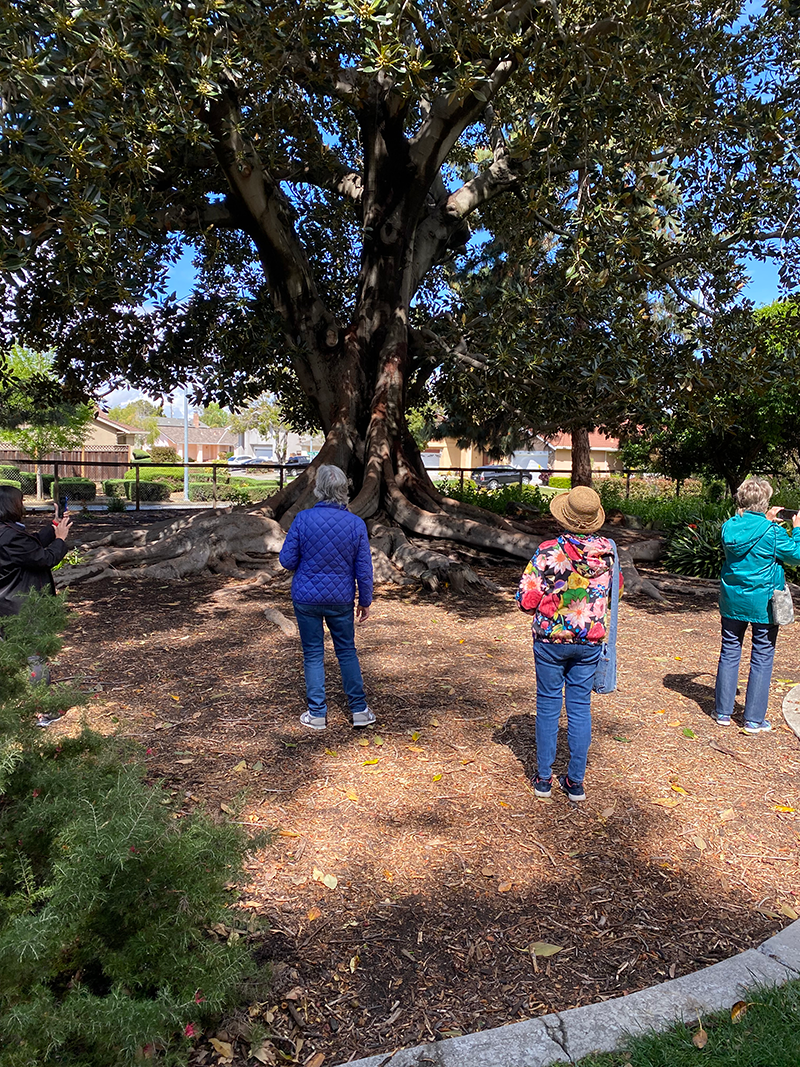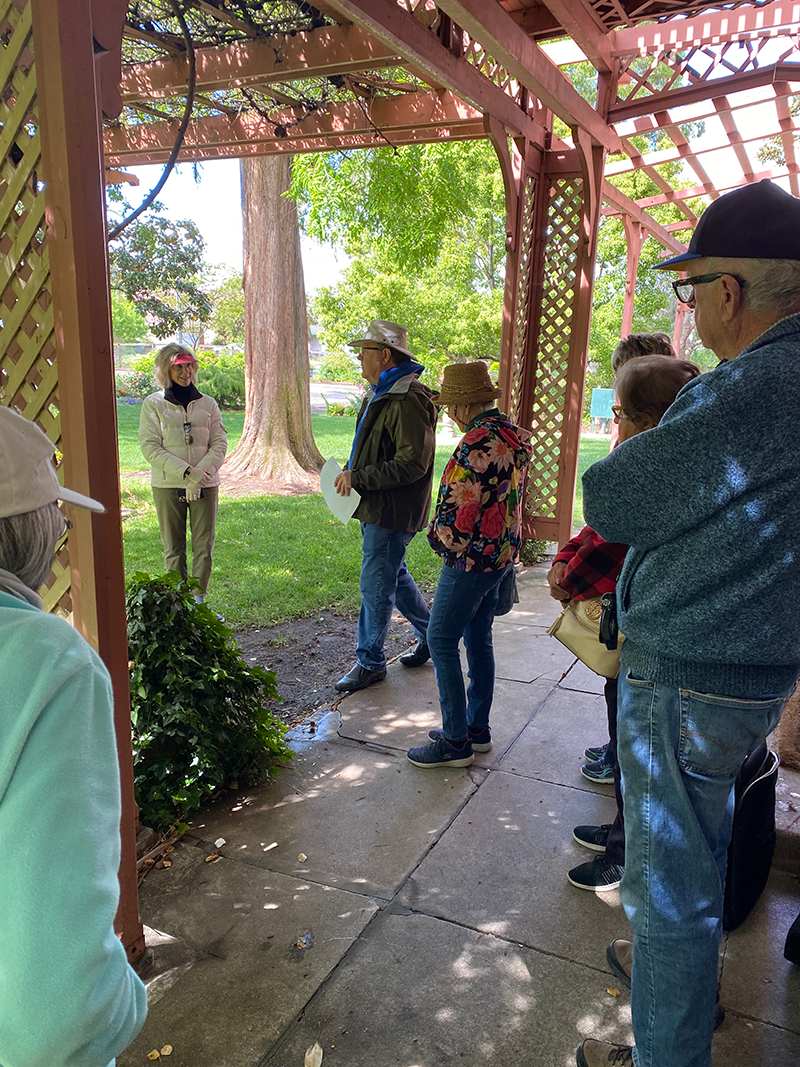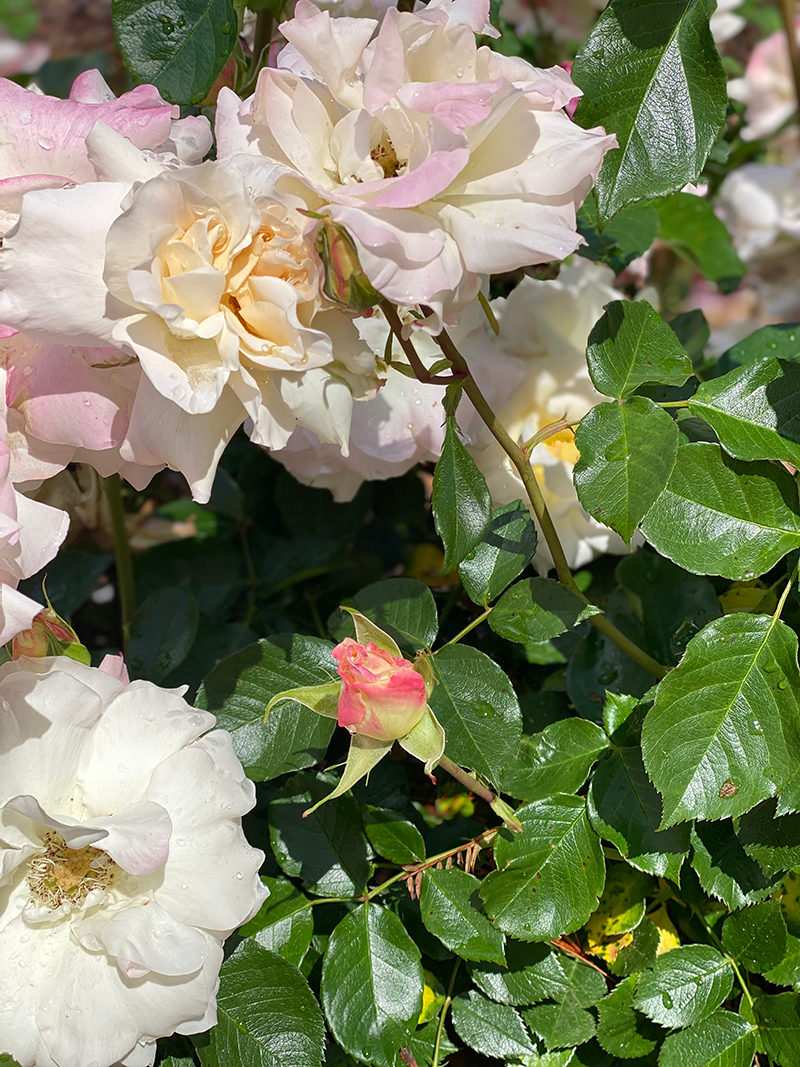 Field Trip: Pleasanton Art League Members' Show
March 23, 2023
For our March Program we visited the Pleasanton Art League Members' Show at the Museum on Main, at 603 Main Street, Pleasanton.
Viewing the Pleasanton Art League's Member Show in Pleasanton was a good opportunity for us to see the creations by their members. A few of the PAL members are also members of OHAG, and you may see their art included in our members' show in April. This was held at the Museum on Main, so we were also able to view pieces of history from long ago, some looking very familiar since the Mission San Jose land extended into the Tri-Valley area. After our educational visit, we enjoyed friendly conversation and lunch at a local restaurant.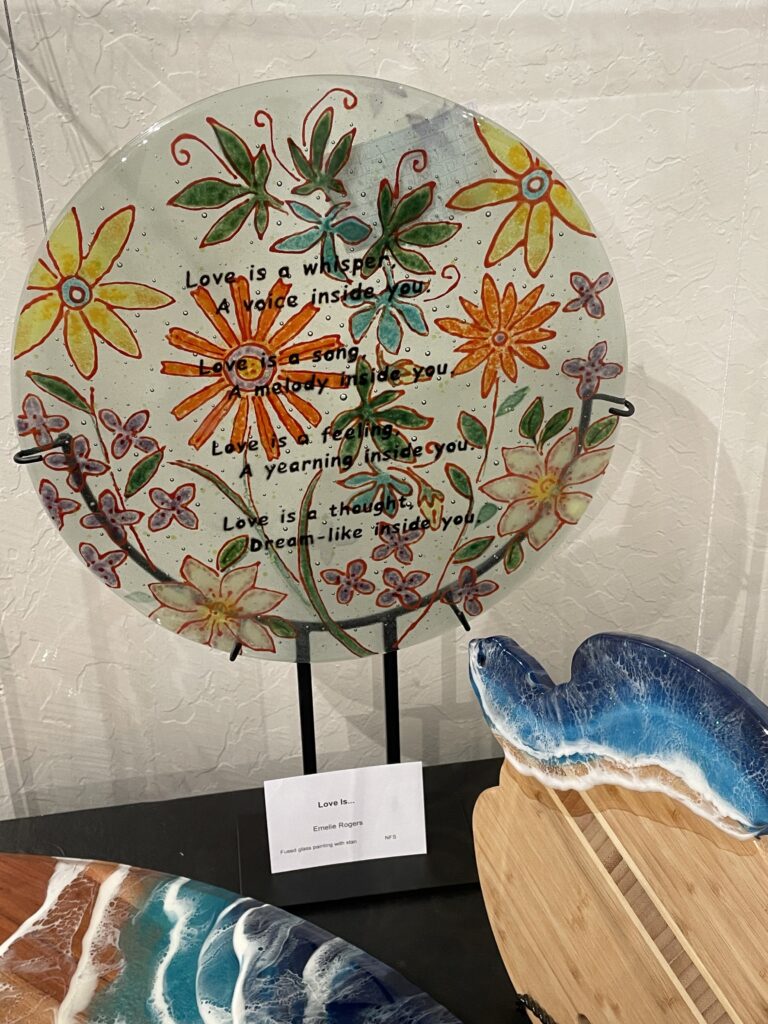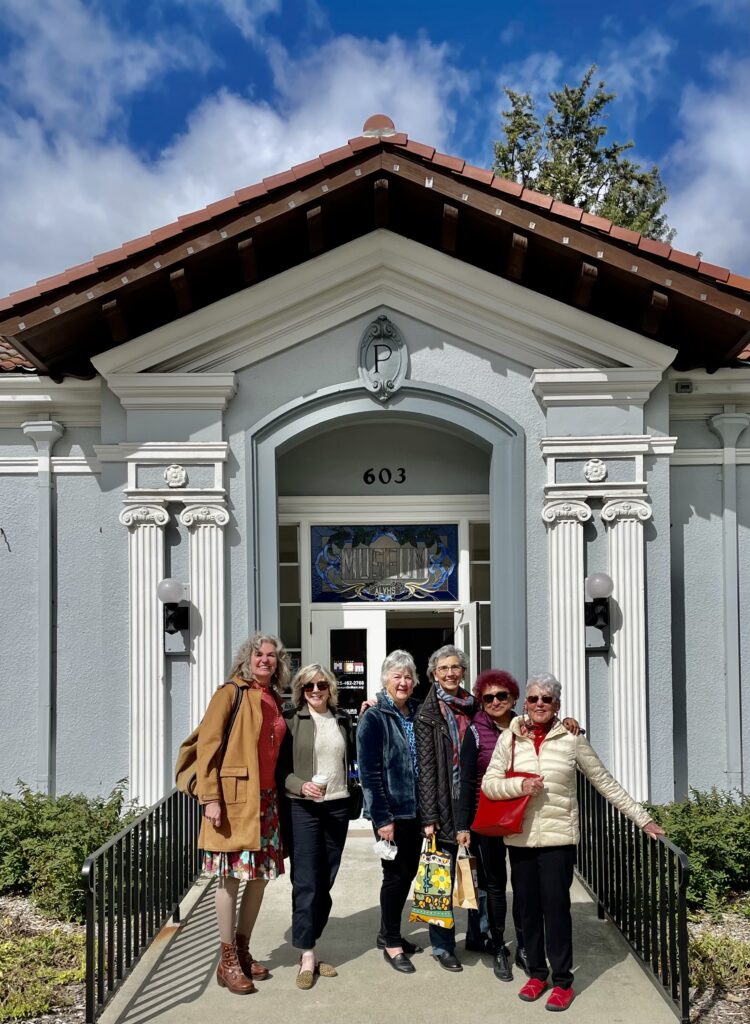 Silk Painting Mini-Workshop
February 21, 2023
Our silk mini-workshop was quite the success. Once again we had to start a waitlist which is hard because we would like to accommodate everyone. If you are unable to attend please let us know as soon as possible.
At this workshop we learned to paint on silk. The artist Walter Stevenson talked about how the different dyes, salt, and alcohol work on silk. Afterwards we each had our own piece of silk stretched on a hoop and got to try out the different techniques. Walter was not only very informative, but also extremely entertaining, keeping us laughing at all times. Little did we know we were going to a comedy show and silk workshop.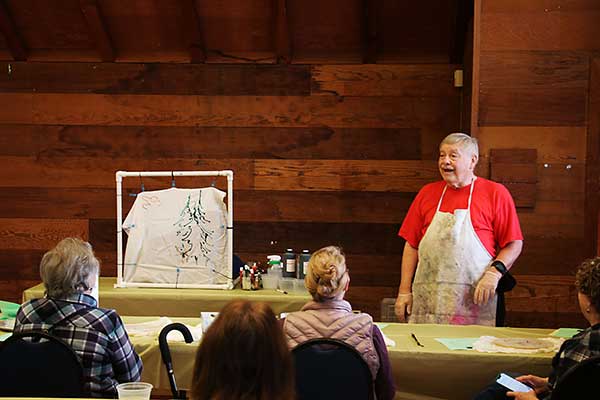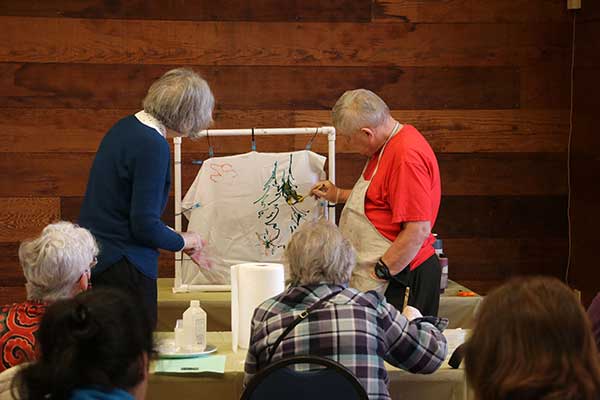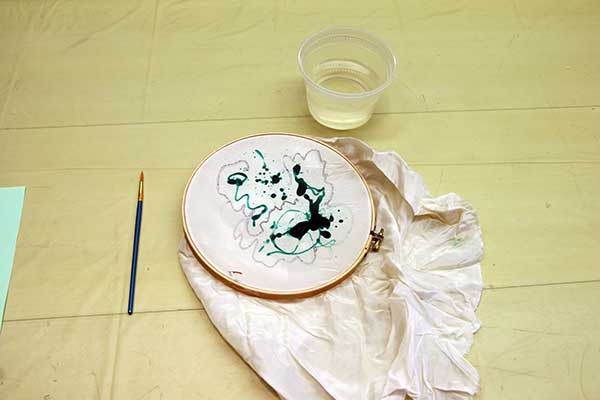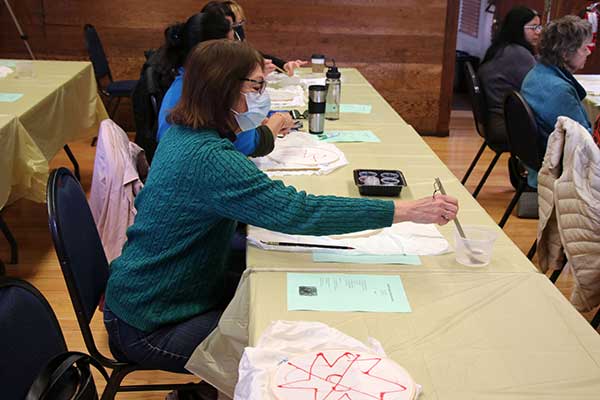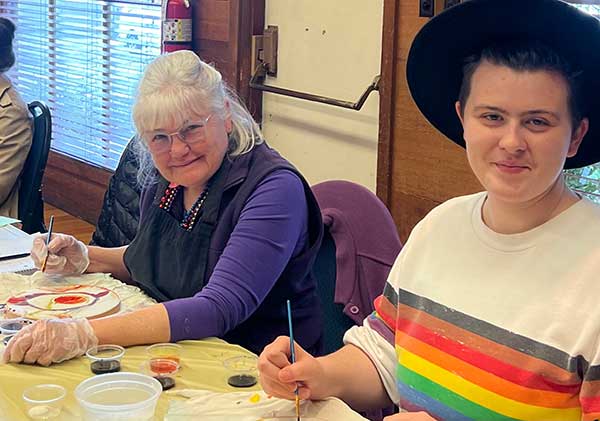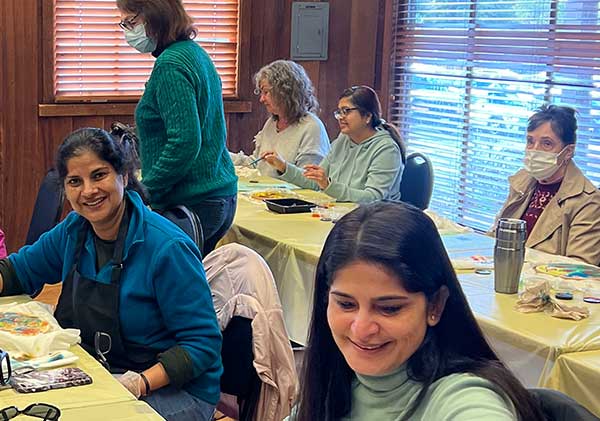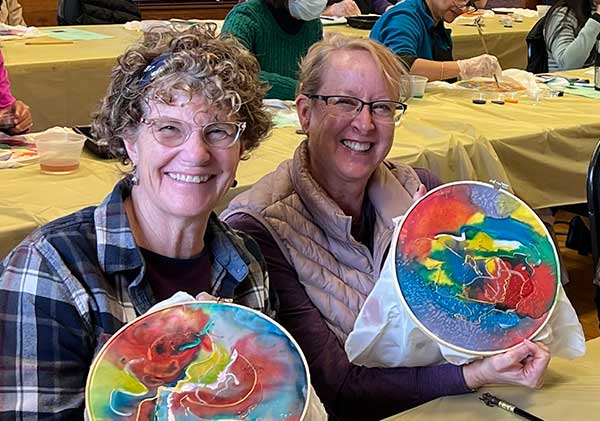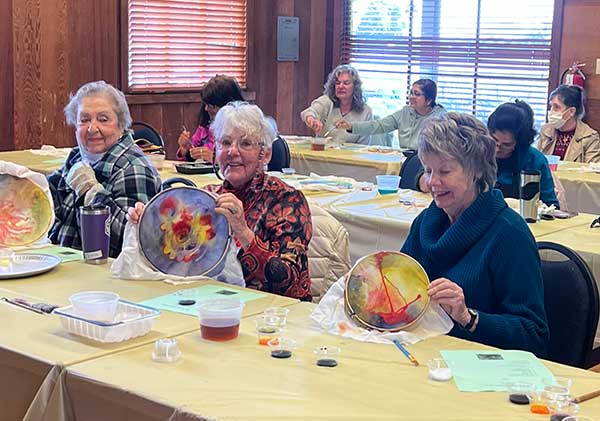 Mosaic Mini-Workshop
January 24, 2023
Many of you have probably admired the new mosaic in the gallery garden. Dimitry Grudsky, the artist, will be leading a fortunate group of 18 in creating a one-of-your-own 4×4 trivet at this mini-workshop on Tuesday, January 24 from 10 am to 2 pm. You may want to include some special pottery, jewelry pieces, and/or stones that have meaning to you to make your trivet that much more special to you.
Dimitry lives locally, but was educated in Russia, receiving a Masters in Fine Arts from the Tashkent Art Institute in Uzbekistan, specializing in design of monumental and decorative art. His work has been exhibited in many places including the DeYoung Museum.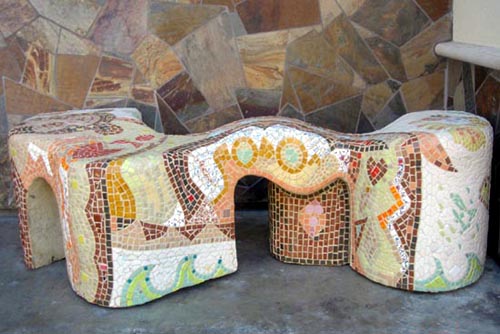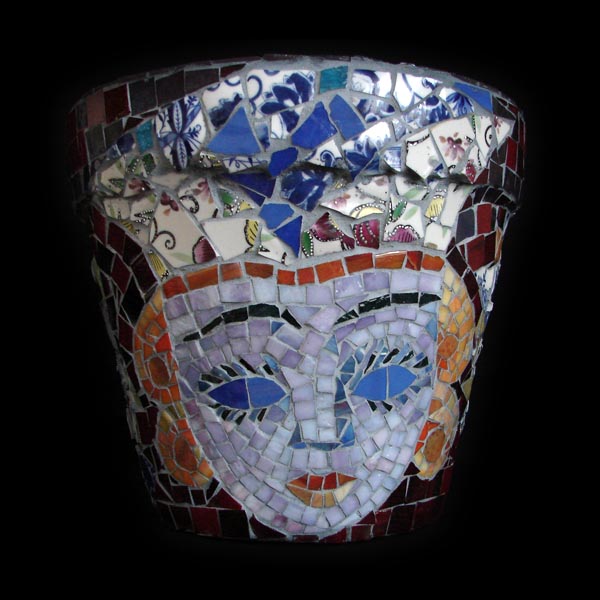 Field Trip to Niles Essanay Theater
Thursday, November 10, 2022
Our first program of the year was a visit to Essanay Theater in Niles. A docent told us about the history of the town of Niles, the theater, and the history of the films made here from 1912 to 1916. We tooured the studio and were fortunate to see the 109-year-old projection room. Two short films entertained us, with one starring the first cowboy film star, Billy Bronco Anderson, and the other starring Charlie Chaplain in one of his five short films made in Niles.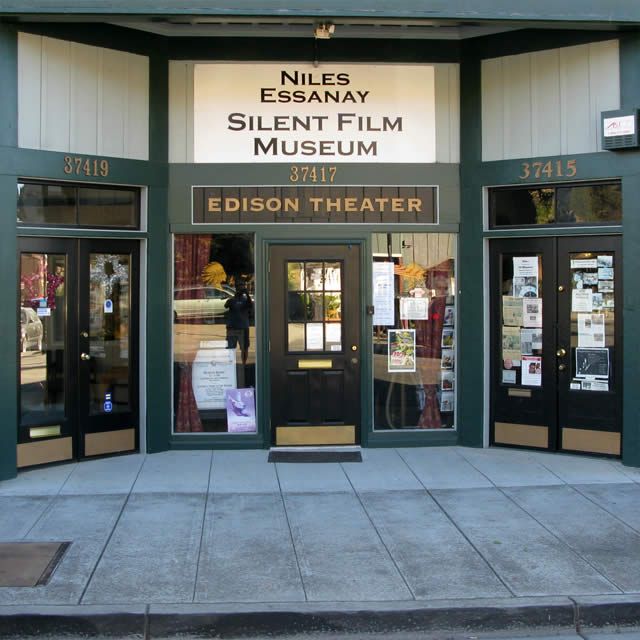 Field Trip to Allied Arts
May 26, 2022
We visited Allied Arts, in Menlo Park to enjoy art, flowers, lunch and shopping!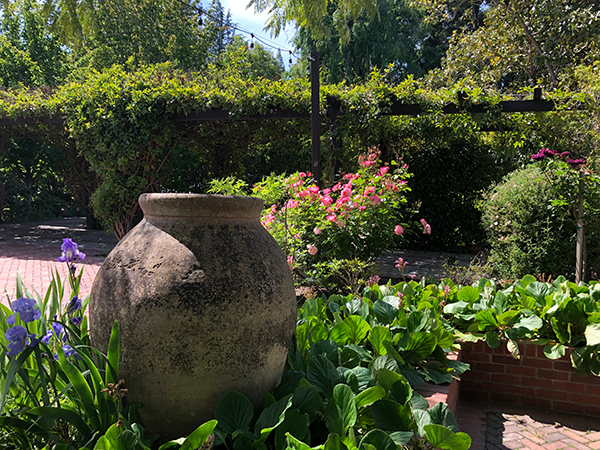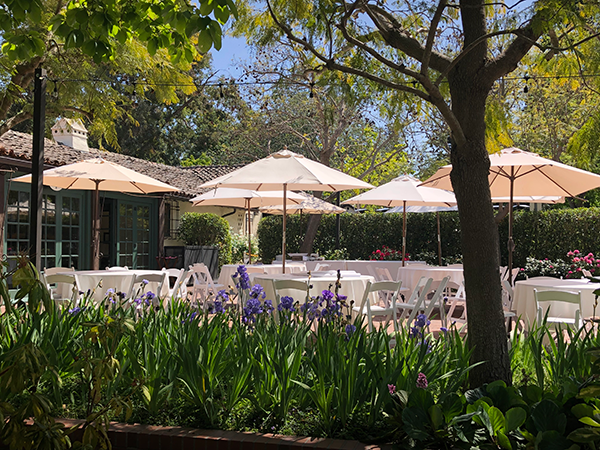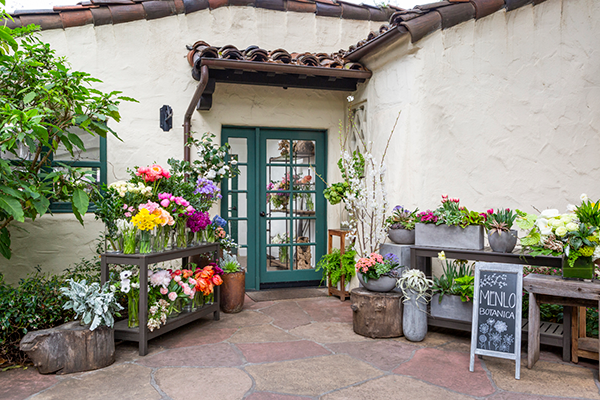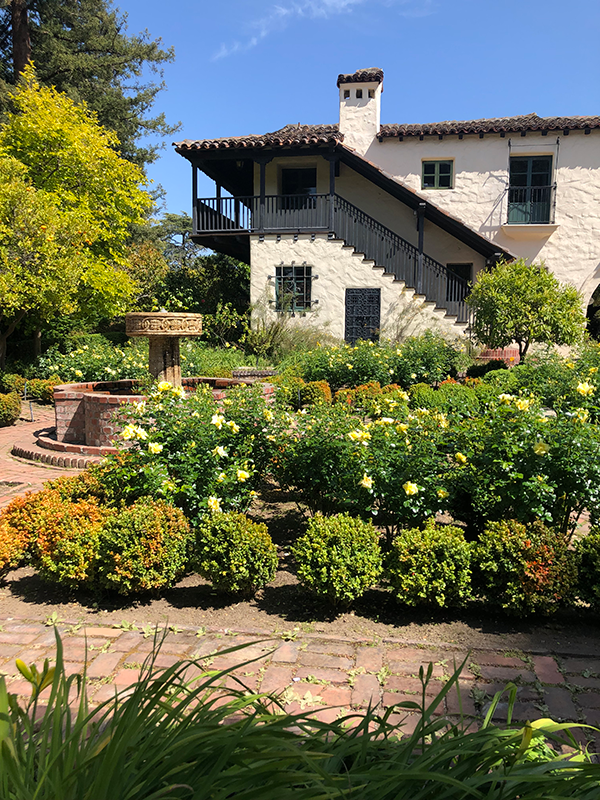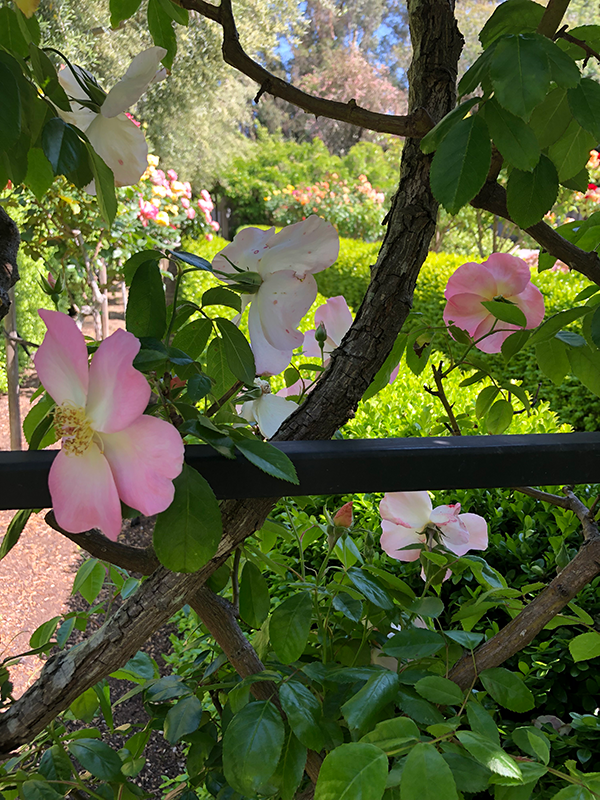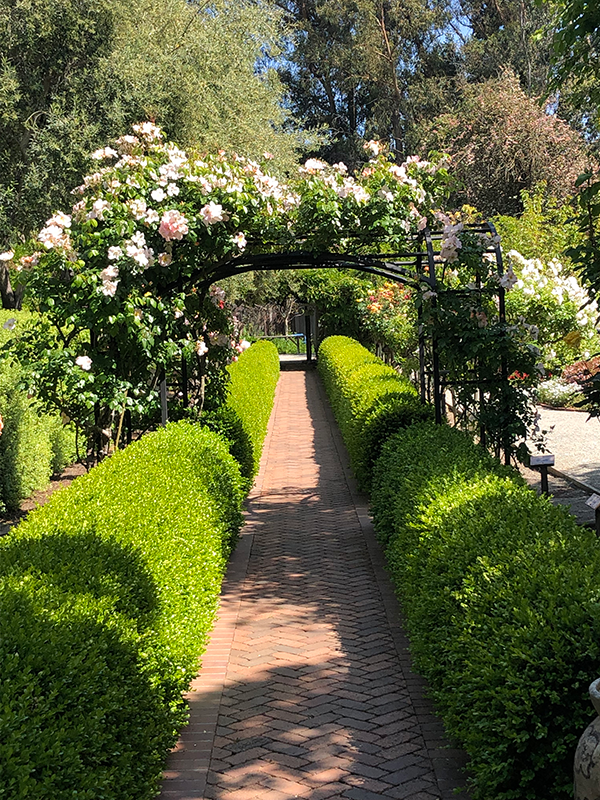 Let's Enjoy Our Garden Flowers!
April 28, 2022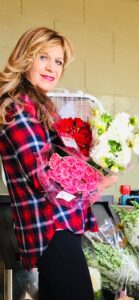 Our Guest Artist was Maria Luna, a floral artist for over 30 years at Fremont Flowers. She has taught flower arranging for many years. She has also created beautiful bouquets for many brides and delightful table arrangements for special parties and occasions.
Maria focused on the flowers we have in our own gardens, and flowers we love at Farmers Markets. She reviewed a few basics of arranging flowers and then showed us creative ways to use a variety of containers to show our own favorite garden blooms.
Jennifer Wool Home Studio Tour
March 23, 2022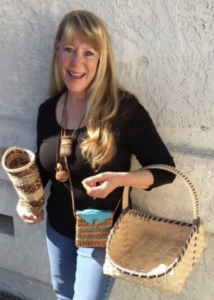 On Wednesday, March 23, artist Jennifer Wool taught 12 lucky people to make a small basket at her home on the road to Mount Hamilton. By the end of the lesson, participants had finished a 6-inch by 4-inch basket, made from both round and flat reed.
Guild members are very familiar with Jennifer's planted gourds, baskets, needle felting, and soaps for sale at the annual holiday show and sale. She has also been a featured artist for the Guild. Jennifer was first introduced to her art by her painter mother who always had her children involved in craft projects. Over the years, Jennifer has kept trying her hand at new things, but basket-making is the art to which she returns.
Jennifer has been a member of the East Valley Group for 40 years and is now becoming president of this artists' group. She is also starting a new business hosting weddings and other events at her beautiful home with the view.
Susan Longini Virtual Studio Tour
February 23, 2022
What is the biggest misconception people have about the unique kiln-formed glass you create? Susan said people think it is easy to do — then quickly emphasized, "It is not easy."
We enjoyed a fascinating and unusual studio visit, followed by a Question & Answer session with Susan.
Watercolor Artist – Encore! with Meghana Mitragotri
October 27, 2021
The Olive Hyde Art Guild is delighted Meghana "Meg" Mitragotri will return for another Demonstration in Watercolors! Meg's casual and calm approach to watercolors will include her lush palette of colors and plenty of helpful hints. This free presentation, sponsored by the Olive Hyde Art Guild, welcomes Members and the public to an enjoyable experience via Zoom. Give yourself this 'gift of time' to watch, learn, and enjoy Meg's watercolor techniques.This Demonstration will be done virtually on Zoom, but live from Meg's studio. Relax, grab a cup of tea or coffee, and watch her paint effortlessly while she shares her passion, her experiences, and answers your questions.
When you register, you will be automatically linked to Meg's Zoom account so she can send you a Zoom Invitation to your email address. The day before her Demonstration, she will send you the Zoom ID and Code needed to connect to her demonstration on October 27th. She will only use your email address for this special program. Any follow-up summary will be sent to attendees from the Olive Hyde Art Guild.
When Meg has completed her demonstration, there will be time for her to share some of her newer artworks. She will also share her "digital business card /website" with attendees. You may contact her that way and request to be added to her email Guest List for more information about her upcoming shows, classes and events.
Register in advance for this free Zoom session. After registering, you will receive a confirmation email containing information about joining the meeting.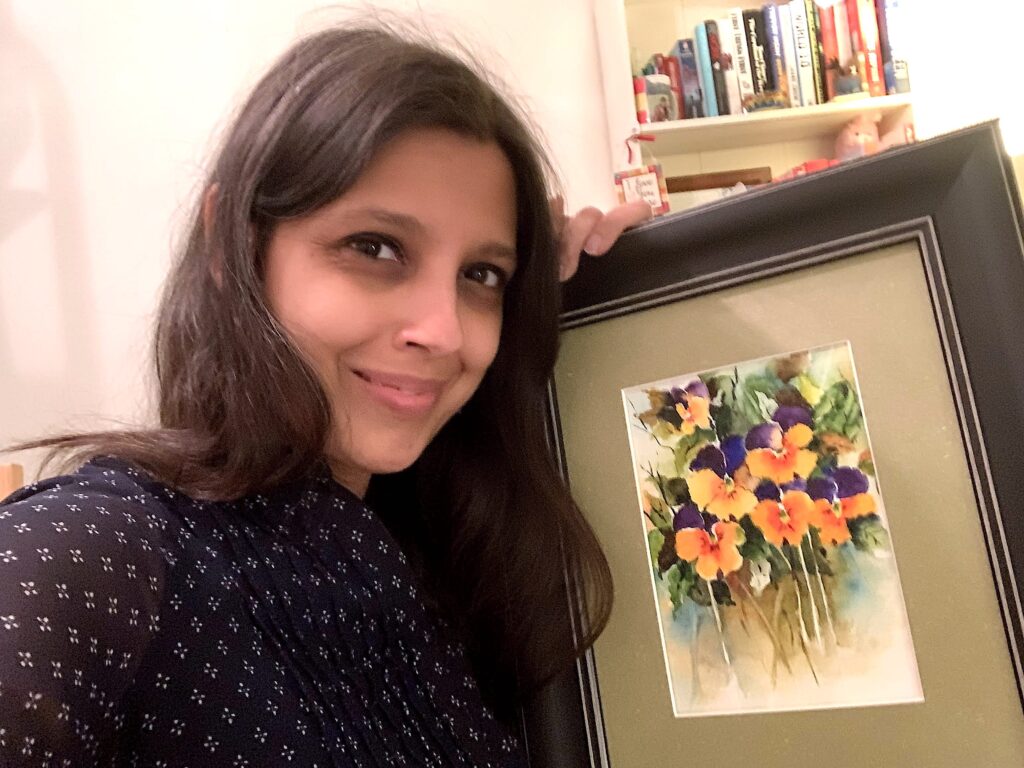 Watercolor Painting Demonstration with Meghana Mitragotri
September 22, 2021
Let's Zoom and meet the delightful artist, Meghana Mitragotri. She will demonstrate how to paint lovely vibrant flowers in watercolors. Her approach is keeping it casual and simple. If you're new to watercolors, please watch and enjoy her calm creative approach. If you tried watercolors before, gather your supplies and let Meghana guide you through her colorful palette and techniques. She is an experienced watercolor artist and teacher, in addition to many other arts and crafts she enjoys.Meg has shown her work at the Fremont Art Association and participated in the Olive Hyde Art Guild's Holiday Show. She also has shown at many Bay Area galleries and other venues, such as the Harrington Gallery in Pleasanton, the Bankhead Theater in Livermore, and San Ramon City Hall. Meg is very experienced at presenting virtual workshops and demonstrations. The Fremont Art Association recently hosted Meg at a virtual demonstration. It is important to Meg to give back to the community, especially during the pandemic. She is currently a director on the Pleasanton Art League's Board, serving as the Scholarship Chairperson and is a member of Tri-Valley's Online Tech Team working on virtual projects to bring communities together.
Meg is a prolific artist who also does a variety of crafts. Check out her website for beautiful examples of all her work and learn more about her at daintlymade.com.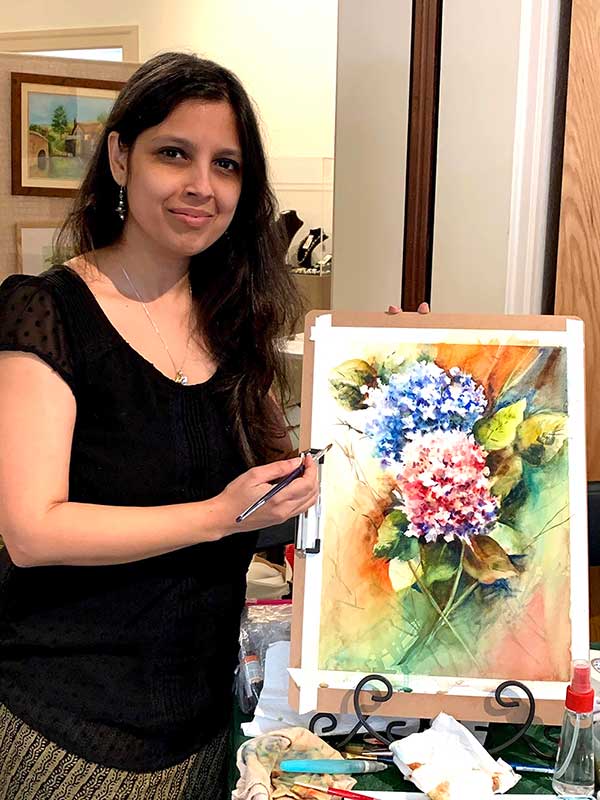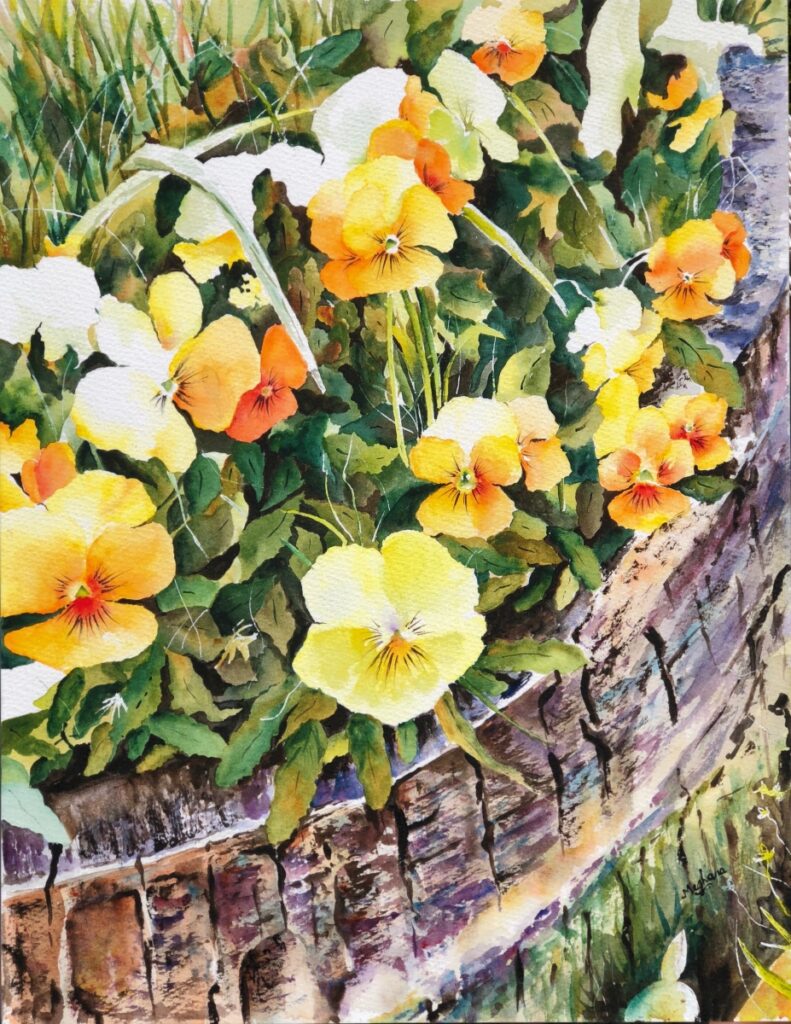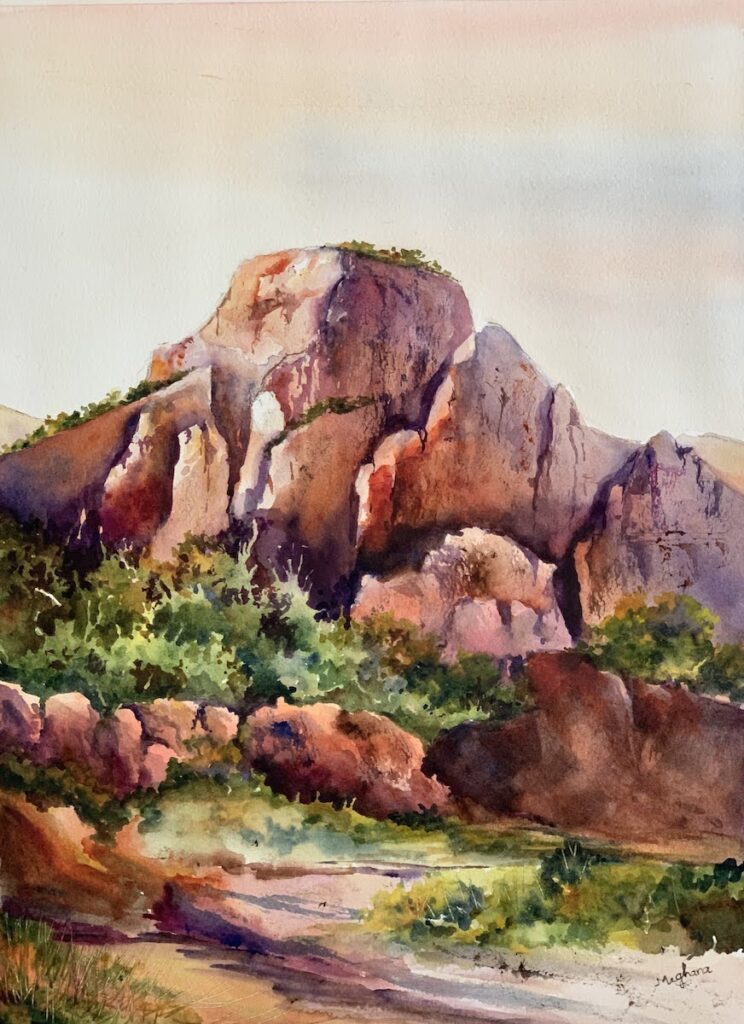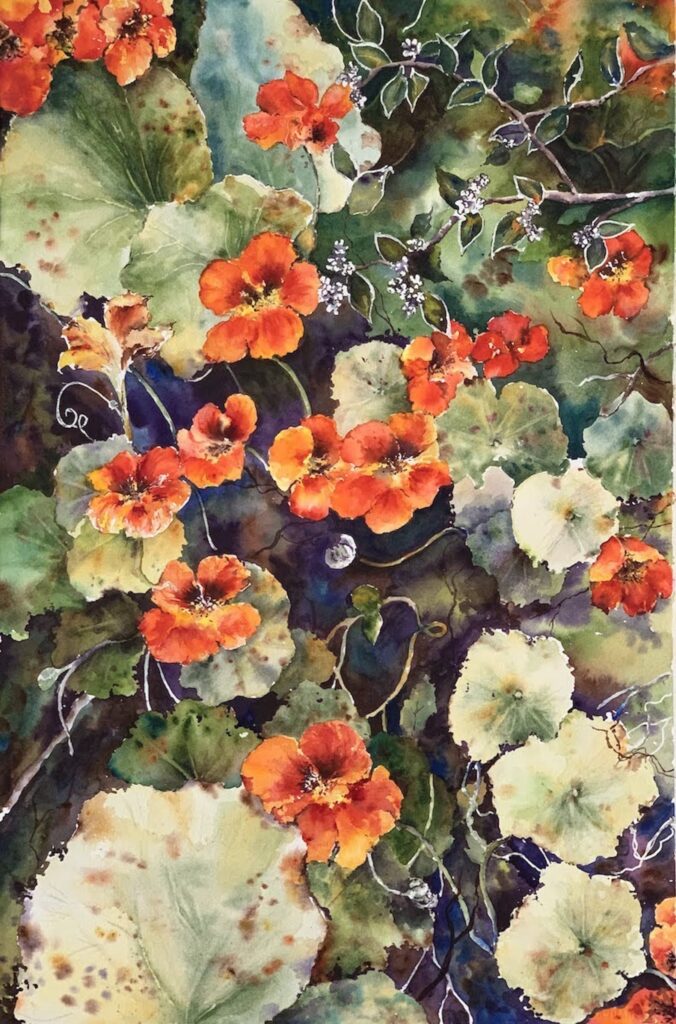 Everyone Sketch! Part 2 – with Helene Roylance
May 26, 2021
Olive Hyde Art Guild welcomes Bay Area artist, Helene Roylance in a virtual Zoom Program, on Wednesday, May 26, 2021. Helene is a multi-talented artist – including sketching, painting and hand painted ceramics too.
If you have ever wished you could sketch — come join us! Register via the link below. There is no charge, the Olive Hyde Art Guild is sponsoring this Program. If you want to just watch her demonstrate, that's fine. Keep a pencil, eraser and pad of paper nearby — try it yourself!
Or you may want to purchase drawing pencils separately or in a drawing kit that includes various pencils, eraser, and even charcoal (we will not be using the charcoal). Amazon and Walmart have such kits for under or around $10, without paper. There are other options if you prefer Michael's or JoAnn's.
If you are interested in buying more professional supplies, Helene has made suggestions and you will receive them upon registration.
About Helene
Helene Marie Roylance is a bay area artist living in Fremont. Although she works primarily with watercolor and hand painted ceramics, sketching and drawing skills are at the center of every piece of art that she creates. It is a strong foundation in sketching and drawing that helps balance a composition and make it come alive. She began sketching in earnest when she was in middle school, having older siblings that were skilled at drawing that motivated her to try and keep up. In college she earned a degree in Social Science as well as Studio Art, unable to leave art behind. She went on to become an and after practicing for a decade. she returned to her first love, art. Helene creates colorful, hand painted ceramics and watercolors under her business name, Lumpy Doodles. Examples of her work can be seen at LumpyDoodles.com.
Helene's motto for art of any kind, including sketching and drawing, isn't that practice makes perfect, but that practice makes progress. It is only with developing the artist's eye that we are better able to capture what we see on paper.
In case you missed it, you can check out Len Cook's presentation, "Photos of Friends and Family: Give them Your Best" on YouTube!
Photos of Friends and Family: Give Them Your Best
April 28, 2021
We were fortunate to sponsor Len Cook, a well known Bay Area Photographer. Len has 20+ years of professional experience  as a photojournalist, chief photographer, and director of photography with a staff of 13 photographers. His photography is supported by his knowledge of technical problem-solving wizardry and endless creativity in photo sessions – there's always a new twist.
His focus now is sharing his experience and knowledge through private mentoring, college lecturing, as well as community education classes.
In case you missed Len's presentation, you can check out the video!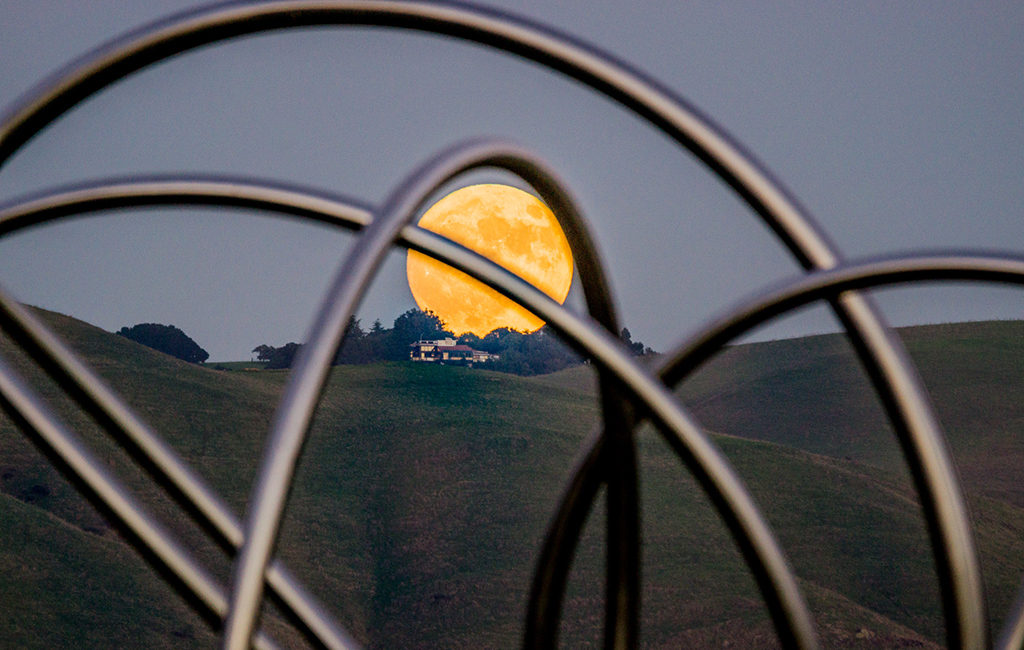 Sketching for Everyone Workshop with Helene Roylance
March 24, 2021
Helene Marie Roylance is a bay area artist living in Fremont. Although she works primarily with watercolor and hand painted ceramics, sketching and drawing skills are at the center of every piece of art that she creates. It is a strong foundation in sketching and drawing that helps balance a composition and make it come alive. She began sketching in earnest when she was in middle school, having older siblings that were skilled at drawing that motivated her to try and keep up. In college she earned a degree in Social Science as well as Studio Art, unable to leave art behind. She went on to become an and after practicing for a decade. she returned to her first love, art. Helene creates colorful, hand painted ceramics and watercolors under her business name, Lumpy Doodles. Examples of her work can be seen at LumpyDoodles.com.
Helene's motto for art of any kind, including sketching and drawing, isn't that practice makes perfect, but that practice makes progress. It is only with developing the artist's eye that we are better able to capture what we see on paper.
Guest Artist: Martha Castillo
February 26, 2020
Clay Printing Workshop by Martha Castillo
By Seema Gupta
If you enjoy learning new forms of art in a fun and creative environment, come join us for a "Clay Printing" workshop featuring our guest artist for the month, Martha Castillo.
Born & raised in Boston, Massachusetts, Martha moved to the Bay Area in 1974, "following friends," and looking for a change and new challenges in her life. She has explored a variety of art forms starting with classical ballet as a young girl, followed by her interest in theatre, ceramics, collage, and the visual arts. Her scholastic accomplishments include a BFA in Theatre and a master's degree in Art Therapy. Martha spent seven years in England, where she continued her studies to earn a BTEC diploma in studio ceramics.
Upon her return to California, she was introduced to a new technique of clay printing which combines traditional printmaking with potters' clay, and it soon became her favorite medium. "I have always been drawn to the abstract,", says Martha, "intrigued by ambiguity of things open to interpretation." Clay printing involves "multiple layers built up and worn away" to generate images that are very different from each other. Inspired by "the visual evidence of aging," Martha found an ideal medium to express herself, "just as natural aging process creates unique results, no two clay prints are alike."
When asked about her interest in Art Therapy, Martha told us that she has always been curious about "people's lives and behaviors, and how we navigate our lives." After reading an article about Art Therapy she thought it would be perfect to merge her two interests into "a caring and productive profession."
Martha is a member of the California Society of Printmakers and the Gallery House in Palo Alto, where several of her pieces are always on display. She also enjoys teaching classes and doing demos at her Palo Alto studio and other venues.
This workshop is sponsored by the Olive Hyde Art Guild, a non-profit organization supporting the City of Fremont's Olive Hyde Art Gallery. The Art Guild also promotes an interest in, and appreciation for visual arts in our schools and community.
Light refreshments will be served.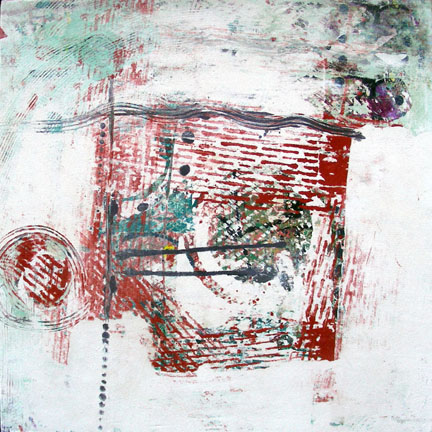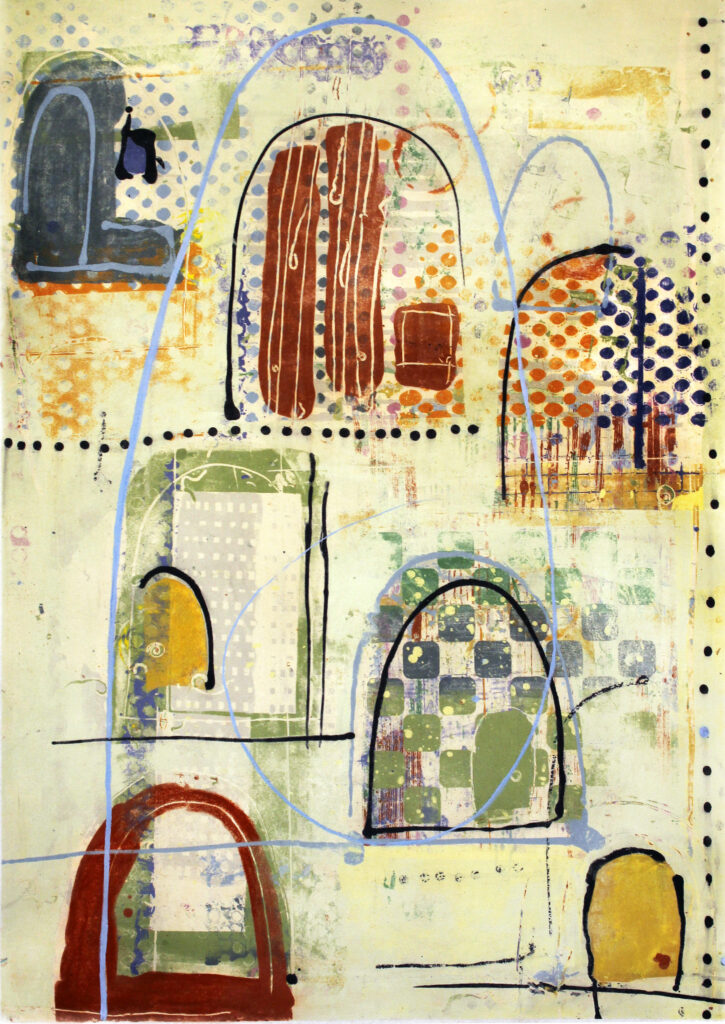 Ginger Summit, Textile Artist and Teacher
January 22, 2020
Ginger has experience in various textiles and particularly in wool "felting." Her work includes framed artworks, decor, authentic bird and animal fiber sculptures plus a variety of wearable art.
Creating Weaves of Skills, Brilliance and Beauty!
A Profile of Master Artist Ginger Summit
By Radhika Sharma
Modest and charming, Ginger Summit is a true master artist. Ginger's interest in handicrafts started from a very young age in large part owing to observing her mother creating beautiful things from fabrics. From simple beginnings such as making outfits for her dolls to weaving, spinning, knitting and her current focus, felting, her extremely skilled repertoire has come a full circle.
A retired Special Education teacher, Ginger's depth of knowledge about felting is vast and deep. "People will notice," says Ginger, "that when wool or knitted clothing are cycled through the washer or dryer, the fabric shrinks. This is because the scales of fiber shafts have bonded together." The process of felting fabric is similar, she notes, to the process just described. Felting was the first technique used to bind fibers together to create a soft mat which could be used for utilitarian or decorative purposes.
Wool fibers have scales, while polyester, nylon and silks do not have scales and hence do not bind when wet. Two common techniques to bind wool when wet are to use warm soapy water or barbed needles to control the process of tangling or matting the fabrics. For those in possession of felt objects and creations, Ginger adds a note of caution for their storage. "Remember that moth finds felt delicious and therefore it is best to use moth balls, moth repellent dryer pads, sprays or to simply keep airing and shaking your clothes and felt creations."
The types of creations that Ginger makes vary by setting. She has made innumerable home décor items, wall hangings, rugs, hats, shawls, scarves and a variety of other items as requested. Scarves are a favorite. "Making scarves is fun! They are easy and nice and quick and good to give as gifts!"
Ginger is currently immersed in creating, teaching and exhibiting her felt work. She also teaches children and adults classes on felting. Her upcoming visit to the Olive Hyde Art Guild on 1/22/2020 is much anticipated!
To learn more about Ginger Summit and her work visit: http://www.summitfiberarts.com/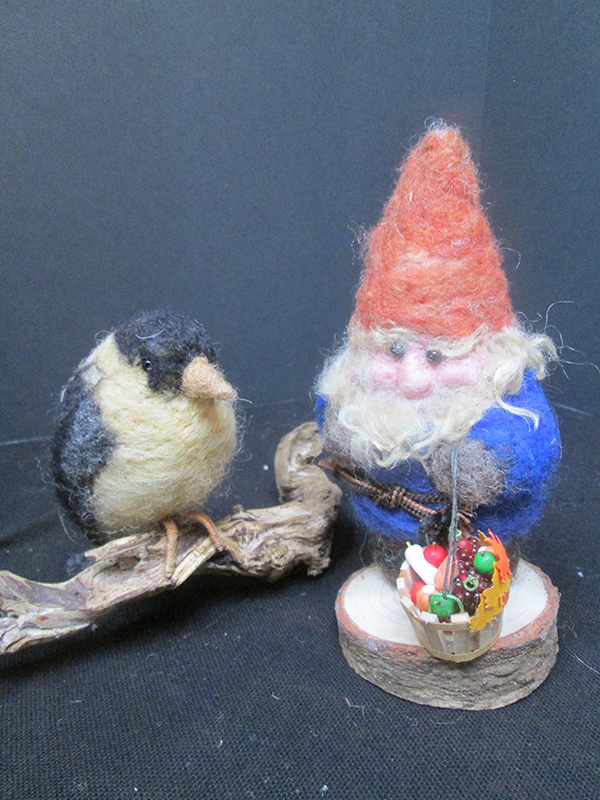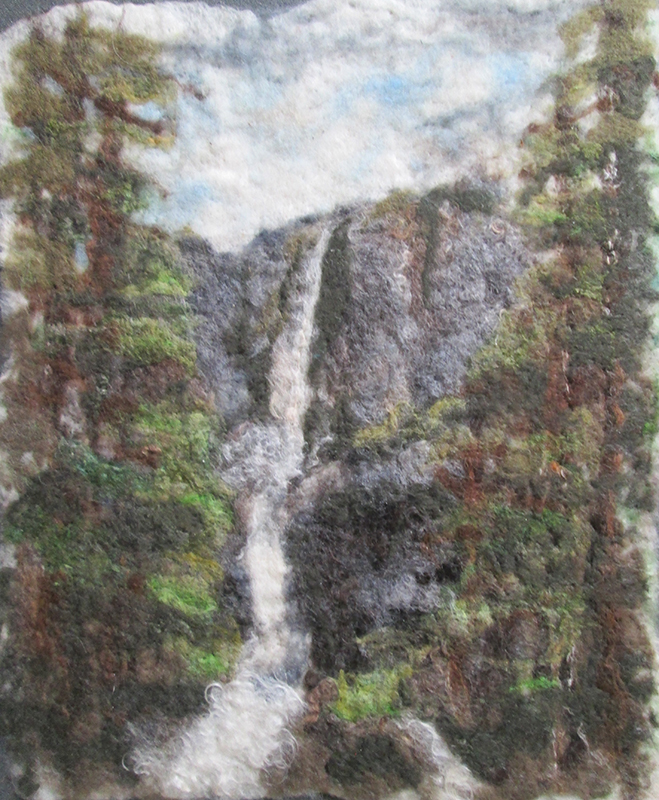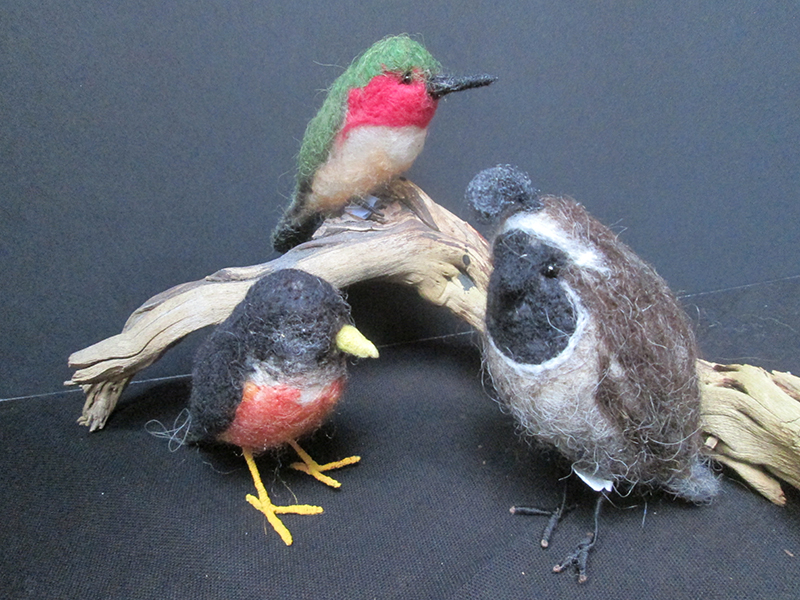 Simone Archer Home Studio Visit
Thursday, October 17
"Multi talented" best describes our Member Guest Artist, Simone Archer of Newark. We are invited to her home studio to see her plein air oil paintings, including recent works of Mendocino and Yosemite. She will discuss her approach to oil painting and special tips. We will see her sculptures, glass jewelry, and learn about her largest artwork: a 45' by 11' high exterior building mural, "Livermore Wine Country." She has documented the design process of creating the handmade colorful tiles. This work is well known and a most charming addition to public art in Downtown Livermore,
A Remarkable Multi-Talented Colorist: Profile of the artist Simone Archer
By Radhika Sharma
Multi-talented Newark artist, Simone Archer spoke to us at length about her work, process, and inspirations. The following are some excerpts from the conversation.
Simone works in three mediums at her Newark studio: ceramics, plein air oil paintings and fine acrylic glass jewelry. She paints scenes of natural beauty being immersed in scene and the environment, capturing moving light as well. One of her illustrative murals was created in the year 2002 in Livermore wine country wall along with two other artists and took two and a half years to complete.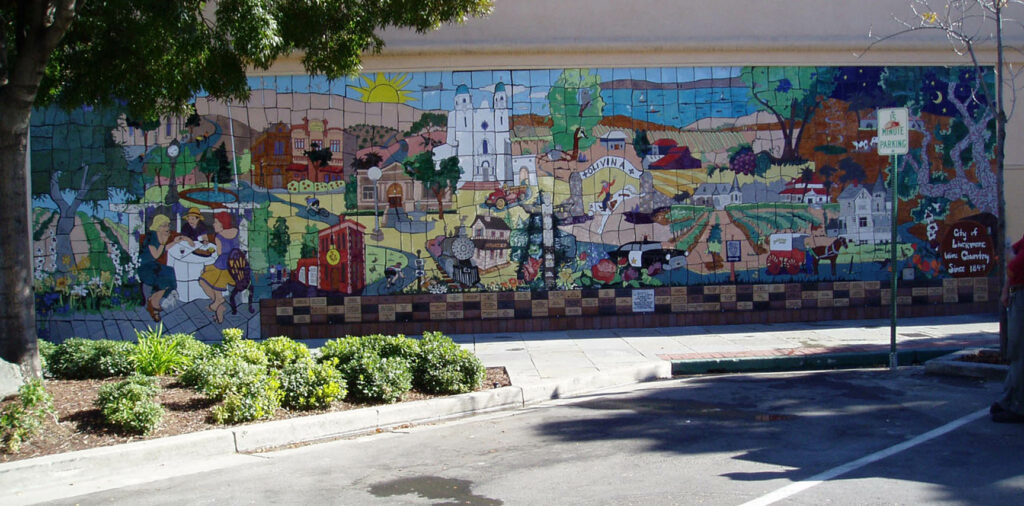 "As a child I fell ill and the nurse brought me a coloring book in the hospital," Simone reminisces about the moment that first started her on the path to color, creativity and painting. In her middle years, Simone drew inspiration from her stepfather who loved drawing people. Simone was a portrait painter for several years as well.
Simone notes that her favorite form is the plein air painting, referring to the art of painting outdoors. Recently, she recalls an experience of painting outdoors at the Niles Canyon, "It was wonderful that the City encouraged it and the presence of artists and painters brought out a lot of people on scooters and bikes in support of the artists!"
"I love nature! I also love the complexity to think through a scene and represent it," says Simone. When asked if she works on different projects in parallel, she affirms and add, " ….I like to flip flop between projects in order to avoid repetition. I like variety of work." Nowadays, Simone finds herself painting more, jewelry although a cherished form, less so as it is laborious and time consuming. In essence, Simone thinks of herself as a colorist, color capturing the essence of her work.
From a business perspective, Simone shares that she finds collectors via Facebook and not through an exclusive website. This year, 2019, will also be notable for her, as she completes twenty years with a group of artists in Newark called the Newark Open Studios.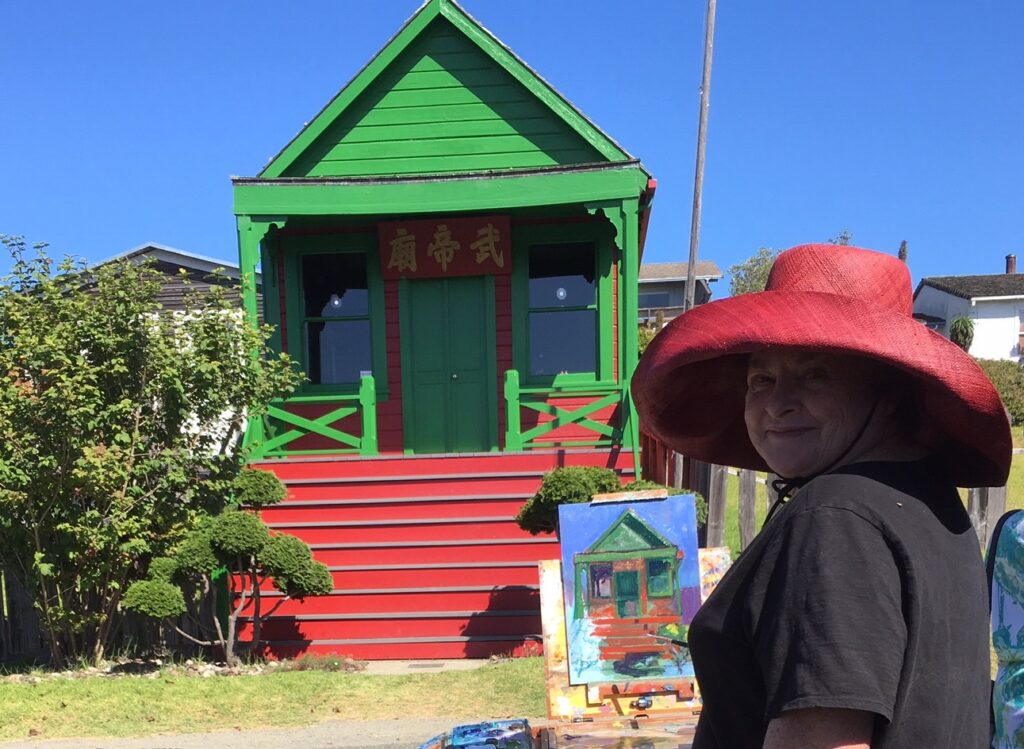 For budding artists, Simone's advice is astute, "… Keep practicing, keep creating, chronicle your work and judge your growth from yesterday to today and avoid comparing yourself to others. Also, join a critique group so that you can find advice on what is working in your art and what is not, as artists can get emotionally very involved with their art."
In jest, Simone adds, "If I am not creating art, I am not much fun to be with!" In summary, she characterizes her work as more impressionistic than real and observes her strong designs in color.
Not only has Simone had a wonderful career in math and art (she is a retired math and art teacher) but her strong artistic and artistic sensibility layered with humility and multitalented creativity has gone from strength to strength each year. A true inspiration to any budding artist and delight to audiences alike!
Glass Artist Gigi Erickson Studio Visit
Wednesday, September 18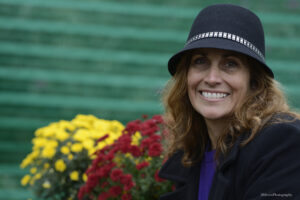 Glass Art That Makes People Smile!
A Profile of Celebrated Artist Gigi Erickson
By Radhika Sharma
Gigi Erickson of Erickson Arts' work has been celebrated across the country! Excerpts from a charming conversation with this extraordinary artist.
"Every piece of glass art I make is meticulously hand sculpted.  These one-of-a-kind creations can take up to several days, weeks, and even months to produce, due to the care and precision invested into each piece of art. I always try to make something unique," says Gigi when asked about her inspirations. Fall is her busiest time of the year which includes her displays at the Los Gatos High School, Danville Art Festival and also displays in Illinois, south of Chicago.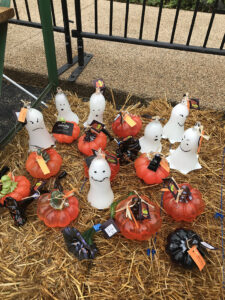 Fall is also the season when Gigi makes beautiful glass pumpkins in different sizes and colors accumulating to over 1200 pumpkins in 11 different sizes.
"My pumpkins come in every color," adds Gigi. " I love creating something that people can bring out at any time!"
Besides her signature pumpkins Gigi is much acclaimed for her hand-blown glass lamps, bowls, fruits, glass flowers, jewelry and stained glass work. Her work is on display in several galleries in the San Francisco Bay area – Pleasanton, Fremont, Benicia to name a few.
Gigi was introduced to hot glass in 1990, after a very successful career in stained and art glass windows starting in 1977.  She adds that ,"…blown glass has become my passion.  I have taken many classes at Corning from notable artists from around the world.  I opened my own studio in 2007 where I make leaded glass windows, blown glass creations, and fused glass: wall art and jewelry." Gigi's art is in homes across the country and around the world.
A teacher of the form herself, Gigi loves to share her passion for her work with her students at the adult education. Her advice for budding artists is sound – learn all you can and keep going! Gigi also offers glass blowing classes at her studio. Gigi's favorite shades are jewel tones of cranberry, blue, greens and purple.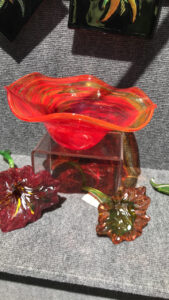 When asked to share a moment from her creative journey, Gigi shared this wonderful gem.
"Last year I was finally able to go to Murano, Italy. My friend set me up with a glass artist there and we made a carafe together. I actually got to blow glass with an Italian master! How could life have gotten any better? He also signed it with his name and my name packed it for my trip home. It was a day dreams are made of."
Erickson Arts gives a portion of its proceeds to one of two organizations: the National Kidney Cancer Association and HHT Association.
To learn more about Gigi Erickson and her work visit: ericksonarts.com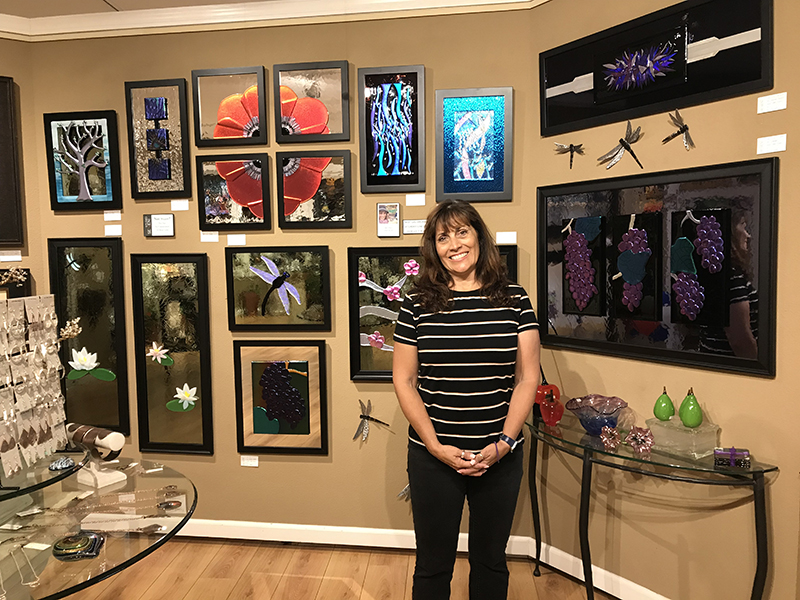 FREE "Painting on Silk" Workshop with Susan Helmer
Wednesday, March 27
Guest Artist Susan Helmer provided a demo of silk painting.
Bruce Munro at Montalvo: Stories in Light
Sunday, February 24, 2019
Visit to Montalvo to see the beautiful light show in the garden.
California Watercolor Association's 49th National Exhibition at Harrington Gallery
Wednesday, January 23
We viewed 75 works including artists from the East coast to Singapore.
Book Arts Jam
Sunday, October 21, 2018
A celebration of book arts presented by the Bay Area Book Artists (BABA) featuring exhibition of artists' books, artists selling handmade books, artists talks, sale of donated books, art, and tools, demonstrations & hand-on activities.
Filoli Estate & Gardens in Woodside
Wednesday, April 25, 2018
Field trip to Filoli Estate & Gardens in Woodside. On view is their 20th Annual Botanical Art Exhibit, as well as a self-guided tour of the gorgeous Georgian Revival house and their legendary gardens.
San Jose Quilt & Textile Museum
Thursday, April 5, 2018
Visit to the San Jose Quilt & Textile Museum, 520 South 1st Street, San Jose.
Let's all "Fold & Twist"!
Wednesday, February 28, 2018
Guest artist P. Kay Hille-Hatten led a free hands-on mini-workshop to make our own accordion-style books.
Making Greeting Cards with Leaves & Flowers
Wednesday, January 24, 2018
In this era of Internet, when you could send a greeting at the touch of a button, a hand-made card has acquired a whole new meaning. The effort and time that goes into creating a card, gives it a special dimension that speaks volumes about your feelings for someone. It's personal, and it shows how important the recipient is, to be deserving of such attention! The group had the opportunity to make some cards with Nancy Overton, using pressed flowers and leaves.
Peninsula Museum of Art, in Burlingame
Wednesday, October 25, 2017
In addition to viewing the exhibits, we explored the many artists' open studios that day, including oil painters, watercolor artists, furniture designers, sculptors, millinery, jewelry and other forms of art.
Mini-Workshop with Guest Artist Judy Schonebaum
Wednesday, September 27, 2017
Judy introduced us to pastels and new techniques using them on paper!
A.R.T. SCULPTURE WORKSHOP: Artfully Recycled Treasures
Wednesday May 24, 2017
Presented by Carla Moss, OHAG Member. Attendees assembled and created a whimsical work of art using items and objects they had found, or recycled.
Visit the Triton Art Museum and the de Saisset Museum and Gallery
Wednesday, April 19, 2017
Triton Art Museum, 1505 Warburton, Santa Clara: "Salon 2D Competition & Exhibition."
de Saisset Museum & Gallery on the University of Santa Clara campus: "Unique & Multiple" legacy work of Paula Z. Kirkeby plus "A Geography of Hope: Student Photography & Creative Writing"
Presentation/Demonstration by Eileen Morrison
Wednesday, March 22, 2017
Ceramics and Glass Artist Eileen Morrison, long-time resident of Fremont, and a member of Olive Hyde Art Guild presented and demonstrated her art in the Mission Room.
"Beauty — Design Triennial" at the San Jose Museum of Art
Wednesday, February 15, 2017
We viewed a very special exhibition: "Beauty — Design Triennial" organized by the Cooper Hewitt/ Smithsonian Design Museum of New York. A fascinating exhibit of 280 works by 27 designers in fashion, furniture, sculpture, architecture, interactive games, wallpaper and much more.
Mini-Workshop with Kay Duffy
Wednesday, January 25, 2017
Kay Duffy is a well known professional artist in the Bay Area creating watercolors and collage. Participants had fun creating unique artwork.
Demonstration in Oils by Katy Kindig
Wednesday, October 26, 2016
Guest Artist Katy Kindig of San Jose presented and demonstrated her art. Much of her work is inspired by Bay Area landscapes.
SF Museum of Modern Art
Thursday, September 29, 2016
Our members had a great day exploring the newly expanded SF  Museum of Modern Art (MOMA). They joined some of the daily Docent tours for more insight on the collections and exhibits.
Docent Tour: Take This Hammer – Art + Media Activism from the Bay Area
Yerba Buena Center for the Arts
May 25, 2016
A field trip for Members & their guests to see  Christian L. Frock's "Take This Hammer" exhibit. Christian Frock is the Curator, and she met us at the gallery to discuss the show.
Guest Artist: Adriane Dedic, Artist, Etcher, and Printmaker
April 27, 2016
Our Member, Adrian Dedic, showed us the many types of printmaking processes she uses in her home studio. She explained the planning and steps needed to create an etching, the special tools she uses to hand carve her wood blocks, and how she prints various monotypes and intaglios using her printing press. We were fascinated and impressed!
Architecture of Life
Free tour of fascinating design gallery of 20 exhibits
March 23, 2016

CAL Art Docent private tour.
Tour of Autodesk Gallery, San Francisco
Free tour of fascinating design gallery of 20 exhibits
Wednesday, February 24, 2016
We will be taking BART and a short walk to One Market Street, San Francisco.
"Looking East: How Japan Inspired Monet, Van Gogh, and other Western Artists"
Guest Speaker from SF Asian Art Museum, Docent Yvonne Cheng
January 27, 2016 
"Looking East," organized by the Museum of Fine Arts, Boston, consists of more than 170 objects, including decorative arts, paintings, prints, drawings and textiles. Locally, a lecture/slide presentation featuring "Looking East," was held at the Olive Hyde Art Center. Asian Art Museum docent, Yvonne Cheng gave us a fascinating overview of "How Japan Inspired Monet, Van Gogh, and Other Western Artists." She discussed the interplay of new art styles and themes inspired by Japan after 1850.
P. Kay Hille-Hatten, Artist Photographer
October 28, 2015
Olive Hyde Art Guild invited members of the community to join artist photographer, P. Kay Hille-Hatten for a photographic stroll around picturesque Niles. Participants brought their cameras for an opportunity to gain insight on learning to see things differently & capturing what you see.
Watercolor Portrait Demonstration
September 23, 2015
Lisa Babbitt, a graphic designer and illustration professional with 20 years of commercial experience, presented a demonstration of her watercolor portrait techniques at the Olive Hyde Art Center.
How to Prepare your Artwork for Digital Photography and Ways to Submit Your Art Work for Calls for Artists
Wednesday, May 27, 2015
Keay Edwards presented a program on preparing your artwork for submission. Keay Edwards is a Photography Lecturer at San Jose State University in the Department of Art and Art History.
Field trip to see Anderson Collection of Art at Cantor Art Center, Stanford University
Wednesday, April 29, 2015
Elisa Kleven, Artist/Author of Children's Books
Wednesday, March 25, 2015
Elisa Kleven, author and illustrator of many children's books, presented a slide program about her delightful stories & whimsical illustrations at Olive Hyde Art Center, 123 Washington Blvd., Fremont, on Wednesday, March 25 from 10 a.m. to noon.
In addition to writing & illustrating her own books, Kleven has also illustrated books by other authors. She has been recognized nationally with awards and honors from the American Library Association, The New York Times, the Junior Library Guild, School Library Journal, and the American Institute of Graphic Arts.
Hands-on Workshop: "Greeting Cards from Leaves & Flowers, with Guest Artist: Nancy Overton"
Wednesday, February 25, 2015
Nancy Overton, a graduate of The California College of Arts and Crafts in Oakland, will conduct a hands-on greeting card workshop at the Olive Hyde Art Center,123 Washington Blvd., Fremont, on Wednesday, February 25 from 10:00 a.m. to 12 noon. Nancy enjoyed a career as the Product Development manager for Sunset Designs for 20 years overseeing the development of stitchery, needlepoint and cross-stitch kits sold throughout the United States. She also worked for Peking Handicraft in San Francisco where she oversaw the design and development of lace products, quilts and needlepoint pillows produced in China.
Recently, Mrs. Overton has designed for the gift and craft markets. She has authored several craft books. She has made birds, dogs and cats in paper mache that are reproduced in China and offered in gift shops across the country. Nancy's original art is shown locally at "Studio Seven" in Pleasanton.
Two hours of hands-on-crafting with Nancy is guaranteed to lift the spirit and produce a beautiful and unique greeting card.
"Salon at the Triton: A 2D Art Competition & Exhibition" (painting, drawing, printmaking and photography)
Wednesday, January 21, 2015
Field trip to view the Pleasanton Art League's "Member Art Exhibit"
Wednesday, October 22, 2014
"Modernism" from the National Gallery of Art.
Wednesday, September 17, 2014
Speaker: Dr. Jim Kohn, is a Docent from the San Francisco deYoung Museum of Art
De Young Museum docent and lecturer, Dr. Jim Kohn, presented a program entitled, "Modernism from the National Gallery of Art: The Robert and Jane Meyerhoff Collection" at the Fremont Main Library. Dr. Kohn discussed the overview of American art from the end of World War II through the end of the century. In addition, presented a slide presentation with his lecture. San Francisco's de Young is the exclusive venue for the Modernism Exhibition.
Dr. Jim Kohn has been a docent at the Fine Arts Museums of San Francisco since the new de Young opened in October, 2006. He frequently gives tours in both the de Young Museum and the California Palace of the Legion of Honor in all the visual art forms. He is a regular participant in the Community Speakers Program, and gives illustrated talks on various topics representing the docents of the Fine Arts Museums of San Francisco.
Sculpting with Wool
Maria Romeo, Tuesday, May 27, 2014
Acclaimed multi-media artist and Olive Hyde Art Guild member, Maria Romeo, presented a program entitled "Sculpting with Wool" (felting) at the Olive Hyde Art Center on Tuesday, May 27, 2014. Participants learned the basic technique of working with wool to create three dimensional art. This technique can be used to decorate sweaters, bags , and other accessories. It can also be used to create decorative sculptures.
Metamorphosis: Clothing and Identity, SF Bay Area Art-to-Wear
Field Trip to San Jose Museum of Textiles & Quilts
Wednesday, April 23, 2014
This is a retrospective of the creative art-to-wear movement beginning back in the 1960s. We had a tour of the show and viewed one-of-a-kind garments along with designs challenging our ideas of what we wear and our identities. 

Through Artist's Eyes – Kyoto Textiles and Arts
Wednesday, March 26, 2014
Fremont artists Denise Oyama Miller and P. Kay Hille-Hatten, presented a program entitled "Through Artist's Eyes – Kyoto Textiles and Arts."
Featuring, primarily, the art and techniques of textile artists, the discussion included works of printers, gold leaf artists, calligraphers and ceramists.
Hand-crafted Paper & Objects of Art from Recycled Paper Demonstration
Wednesday, February 26, 2014
Jeanne Tillman, an accomplished fiber artist, demonstrated her techniques for Hand-crafted paper and objects of art from recycled paper.
The Art of Bulgari: La Dolce Vita & Beyond, 1950-1990
January 22, 2014
De Young Museum docent and lecturer, Kay Payne, presented a program entitled, "The Art of Bulgari: La Dolce Vita & Beyond" in the Fukaya Room, at the Fremont Main Library, 2400 Stevenson Blvd., Fremont.
Tape & Spray Watercolor Demonstration by Zoya Scholis
October 23, 2013
Zoya Scholis, an abstract painter, sculptor, and author of the recently published "Tape & Spray Watercolor" presented a demonstration of her technique.
Collage Presentation by Jaya King
September 25, 2013
San Martin artist, Jaya King presented a "Collage Technique" demonstration. Jaya demonstrated the use of decorative collage papers and acrylic paint to create fun and whimsical pieces of art. She will be describing process, tools, composition and where to find local supplies.
Tour of San Jose Museum of Quilts and Textiles
May 22, 2013
Olive Hyde Art Guild sponsored a docent led tour of the San Jose Museum of Quilts and Textiles on Wednesday, May 22, 2013.
Encaustic Painting by Karen Frey
April 24, 2013
Encaustic is a beeswax based paint that is kept molten on a heated palette. It is applied to a surface and reheated to fuse the paint into a uniform enamel-like finish. The word encaustic comes from Greek and means to burn in, which refers to the process of fusing the paint. Encaustic has a long history, but it is as versatile as any contemporary medium.
Asian Art Museum Docent Presentation on The Girl with the Pearl Earring
March 27, 2013
De Young Museum docent and lecturer, Marsha Holm, presented a program entitled, "Girl with the Pearl Earring: Dutch Paintings from the Mauritshuis." Ms. Holm discussed a selection of paintings by the leading artists of the Dutch Golden Age. On exhibit at the de Young Museum in San Francisco from January 26 – June 2, 2013, this once-in-a-lifetime exhibition, including Vermeer's timeless masterpiece, is made possible only because of the current renovations and expansion of the Royal Picture Gallery Mauritshuis in The Hague, Netherlands.
Asian Art Museum Docent Presentation on China's Terracotta Warriors: The First Emperor's Legacy
February 27th 2013

Triton Museum
January 23, 2013
Olive Hyde Art Guild members and friends visited the Triton Museum in Santa Clara to view "The 2012 Statewide Watercolor Competition and Exhibition."
The Triton Museum of Art Received well over 500 entries for the 2012 Statewide Watercolor Competition & Exhibition. Seventy-three artists were selected to be in the show. Olive Hyde Art Guild member and Fremont resident, Maureen Langenbach was awarded an Honorable Mention for her watercolor, "Solitary Confinement."
Zentangle Art – or "Organized Doodles"
October 24, 2012
Fremont artist Barbara Cronin showed us how she does her "Organized Doodles" so they are charming and artistic.
View photos from the workshop.
Anderson Collection Tour
September 20, 2012
Olive Hyde Art Guild toured the Anderson Collection, in Menlo Park, on Thursday, September 20, at 11 AM.  The Anderson Collection is one of the largest private collections of American Art.
Farshid Namei, "Portrait Painting Demonstration"
May 23, 2012

With a degree in engineering from the University of Tehran, Iran, Farshid came to the U.S. in 1974. She continued her education earning an MBA at University of San Francisco and a CFP from the College of Financial Planning in Denver, Colorado. After a successful career as a financial planner and V.P. with a major bank, Farsid left the corporate world to focus on her childhood dream of becoming an artist. Motivated by her desire to paint, Farshid enrolled in art classes at Ohlone College. Recently, two of her portraits were selected for the annual International competition at Salon International in San Antonio, Texas. In addition, the April 2012 edition of "American Art Collector," a magazine specially written for galleries, collectors and painters of traditional fine art is showing Farshid's work. Two paintings are being shown at the Greenhouse Gallery in San Antonio, Texas. In June, Farshid's work will be shown locally.
Using oil and acrylic paint Farshid prefers to paint portraits. Her portfolio includes still life and landscape paintings. Her passion for painting is reflected in her work. "I like to paint portraits because it is both challenging and gratifying. A portrait is not done until it talks to me. And when it does talk to me, something amazing happens. My heart starts to beat faster. That is the moment that I have to stop and breathe. At that instance I feel no longer alone."
Farshid's Olive Hyde presentation included a brief description of her painting process. She demonstrated her technique on a small portrait.
View photos from the demonstration
"Ohlone and Other Central California Indian Basketry Past to Present"
March 28, 2012
Speaker Beverly Ortiz, a naturalist at Coyote Hills Regional Park in Fremont, discussed the varied functions of baskets and the processes used to create them.
Shu-Chen Chen, "Chinese Calligraphy" – a hands-on experience.
April 17, 2012
We learned how to write our own name with Chinese characters! The wonderful teacher, Shu Chen Chen, showed us some of the secrets of this ancient art and guided our hands in trying to replicate the master strokes.
View photos from the demonstration.

Mixed Media, by Denise Oyama Miller
February 22, 2012
Local artist & OHAG member, Denise Oyama Miller presented a "Mixed Media Collage Demonstration" in the Mission Room of the Olive Hyde Art Center from 10 am to 12 noon. After the demo there was a 'hands-on' experience for making small landscapes.
View photos from the demonstration.
Triton Museum
January 25, 2012
On January 25, 2012, we visited the Triton Museum in Santa Clara to see the "2011 Statewide Painting Competition & Exhibition." Member Denise Oyama Miller has a painting, "Working in a Copper Mine" that's in the show.
Pier 24 Photography Exhibit: "Here"
October 26, 2011

Members took BART to San Francisco, had lunch at Ferry Building, and then walked to Pier 24 Photography. The exhibit was entitled "Here." It presented works produced by 34 Bay Area photographers and included images of San Francisco (emphasis on late-20th century) and surrounding areas. There were over 700 images from 1906 Quake to present day which documented life in the Bay Area. Photographers include: Carleton Watkins, Richard Misrach, JimGoldberg, Eadweard Muybridge, Lee Friedlander, Dorothea Lange, Bill Owens, Edward Weston and numerous others.
Ikebana Flower Arranging
September 28, 2011
A special demonstration by Katsuko Biko Thielke, an inventive Ikebana flower arranging artist. Katsuko studied in Japan and earned her teaching degree in 1969. She now resides in Mt. View. In addition to frequent participation in San Francisco Bay Area Ikebana International Chapter events, she has given programs in Sacramento, Monterey and Colorado. For any years she has installed arrangements at the San Francisco Fine Arts Museum's "Bouquets to Art" and at Filoli Gardens for their annual flower show. Ms. Thielke teaches Ikebana in Los Altos, Mt.View and Mission College.
View photos from the presentation
Picasso: Masterpieces from the Musee National, Paris
June 22, 2011
Marsha Holm, our favorite Docent at San Francisco deYoung Museum, presented another fascinating lecture/slide show: "Picasso: Masterpieces from the Musee National, Paris."
Photography for Beginners
May 25, 2011
Ralph Cooksey-Talbott presented a workshop on "Photography for Beginners." Cooksey is a member of both OHAG and FAA,a nd his work has been in the Olive Hyde gallery and Holiday Show, in addition to major galleries. For more background information, visit Cooksey's website.
Oakland Museum of California
April 27, 2011

We visited the newly re-opened Oakland Museum of California, including a private Docent Tour featuring their California Art Collections. View photos
Sketchbook Journaling: at Home or On the Road with Grace Rankin, SWA, CWA, SCVWS
March 23, 2011
Grace has conducted sketchbook/watercolor tours of Scotland, Italy, France and most recently taught aboard a cruise ship touring from Seattle to Skagway, Alaska. Read Grace's bio.
San Jose Museum of Art
February 23, 2011
We enjoyed a San Jose Museum of Art Docent-led tour featuring three photography exhibits: The Modern Photographer: Observation and Intention/Selections from the Permanent Collection; "Portraits" by American photographer Robert Mapplethorpe (1946-1989).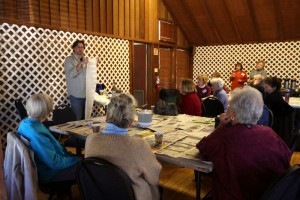 Batik Workshop
January 26, 2011
We explored the ancient and contemporary art of batik. For thousands of years, batik has employed a technique of wax resist and dye to create beautiful & unique patterns on cloth. We will review batik applications and see examples from around the world (India, Africa, Indonesia) as well as contemporary designs. Everyone will have the chance to create a small batik, and all materials will be provided. There are no mistakes in batik – the wax drips, dyes spill, and art crackles ~ these are all part of the creative process, which is the fun & challenge of this media. John Tinger, an Oakland based artist, studied batik at the Intendencia Municipal del Florida in Uruguay and has been doing batik for almost 20 years. An experienced lecturer, he is a NEA & DC Commission of the Arts grant recipient, and has shown in many gallery settings across the country. www.BatikFineArt.com
View more photos from John's presentation and demonstration
Presentation by Marsha Holm, Docent Lecturer, Fine Arts Museums of San Francisco
October 27, 2010

Her topic is on the second exhibit on loan from France: "Van Gogh, Gauguin and Beyond: Post Impressionism from the Musee d'Orsay." Marsha's presentation includes selected slides from the exhibition along with commentary on the artists, their techniques, and history of that period.
Marsha Holm has been a docent with the Fine Arts Museums of San Francisco since 1979. She gives tours on all areas of the museums' collections. In addition to being Chair and training docents at the San Francisco museums, she has also assisted training new docents at the Blackhawk Museum, the Oakland Museum, and the San Jose Museum of Art. She has a broad background in many facets of art history and a particular fascination with contemporary art. Her previous lecture on "Birth of Impressionism" was so popular, the Olive Hyde Art Guild specifically invited her to return for the second part of this special exhibition from the Musee d'Orsay.
Olive Hyde Art Gallery, Mission Room
May 26, 2010

Marsha Holm, a docent lecturer from the Fine Arts Museums of San Francisco (FAMSF), will be presenting a program on "Birth of Impressionism: Masterpieces from the Musee d'Orsay" which will be opening at the DeYoung Museum in May. The program will also include a slide show along with the lecture.
Akio Aochi Ceramics Demonstration
April 28, 2010

Fremont artist, Akio Aochi, presented a ceramics program in the Olive Hyde Art Center Courtyard. This was an opportunity to watch an expert potter work in his medium. In addition to building a piece using a ceramic wheel, Mr. Aochi demonstrated his skill in trimming greenware. Largely creating functional ware, Akio also enjoys making Raku and pit-fired decorative pieces. As a long time member of the Orchard Valley Ceramic Arts Guild, Akio also teaches at Blossom Hill Crafts Pottery in Los Gatos.
Mr. Aochi made a salad bowl, a platter and a casserole dish with a lid during our demonstration. He answered a lot of questions and was also very entertaining. One of the pictures shows him destroying his freshly made creations because of a mistake.
View more photos from Akio's presentation and demonstration
San Jose Museum
March 24, 2010

On Wednesday, March 24 the Olive Hyde Art Guild will travel to the San Jose Museum to enjoy a docent tour of the Wayne Thiebaud exhibit. The exhibit showcases a sampling of 70 years of painting by this California artist. Because of his interest in objects of mass culture, Thiebaud (pronounced "Tee-bo") is often associated with the Pop art movement, which his work predates.
Berkeley Art Museum
February 24, 2010

James Castle – A Retrospective. This exhibit examines the fascinating output of artist James Castle, who spent his entire life making drawings, assemblages, text works and handmade books from found materials on his family's farm in rural Idaho.
DeYoung Art Museum
January 27, 2010

The Olive Hyde Art Guild field trip for January 27th was a visit to the DeYoung Art Museum to view "Amish Abstractions," quilts from the collection of Faith and Stephen Brown. This showcases the artistry and diversity of the Amish quilt making tradition with 48 full-size and crib quilts dating from the 1880s to the 1940's, the height of Amish quilt making.
San Jose Museum of Art
October 28, 2009
On October 28, 2009, we carpooled to the San Jose Museum of Art. Martha Crowe, Program Director, secured an excellent docent who encouraged discussion of the many works on exhibit. We all enjoyed the museum's Dale Chihuly 'chandelier' glass work, which greeted us in the museum's main lobby.
The photo at lower left shows the unique little benches provided by the docent. You take them along as you go from gallery to gallery and it allows folks to sit, observe, and discuss. The museum featured early works of Ansel Adams, colorful mobiles by Calder and works by Chuck Close: Printing and the Process. The on-site cafe and the museum's gift shop were also popular places Guild members visited.
San Francisco De Young Museum
September 24, 2009
The field trip to the Dale Chihuly show at the De Young Museum in SF on September 24, 2008 was spectacular. Glass chandeliers, underwater sea objects, Ikebana flowers, boat loads of sea glass, and wonderful views of the City prompted oohs and ahhs from Guild members and guests.