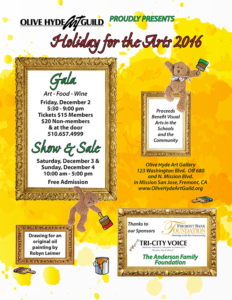 Olive Hyde Art Guild's "Holiday for the Arts" Show & Sale benefits the Olive Hyde Art Gallery and other visual art projects in the Fremont community and schools. The show is held annually during the first weekend in December. The show opens with a ticketed Gala on Friday night featuring hors d'oeuvres, sweets, and wine, with the first viewing and sale of art. On Saturday and Sunday the show is open to the public without charge.
Each year we sell over $25,000 of high quality handcrafted objects and fine art.
Download poster (PDF, 8.5″ x 11″)
Download postcard (PDF, 8.5″ x 5.5″)
View photos from our 2016 event
Event Schedule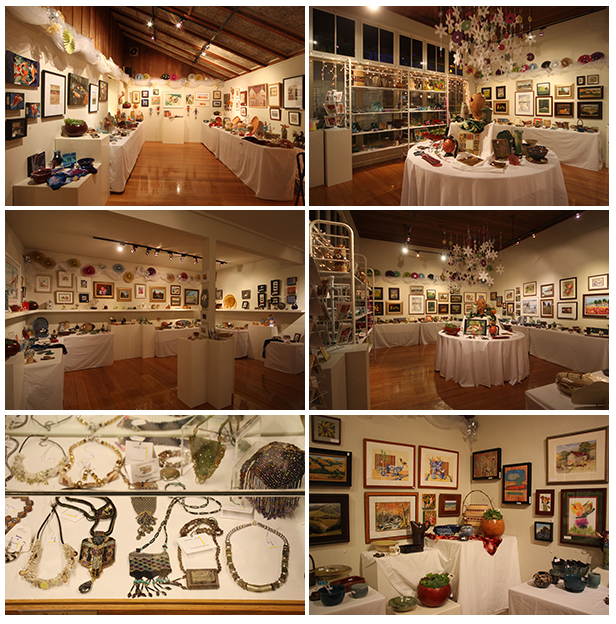 The show weekend is always the first weekend in December. The Gala is held on Friday from 5:30 – 9:00 pm. Tickets are $15 for members, $20 for non-members. Tickets may be purchased at the door, or in advance. Check back in October for more ticket purchase information.
The show and sale are open Saturday and Sunday, from 10:00 am to 5:00 pm. Admission is free. Items for sale include original works in ceramics & glass, paintings, jewelry, fiber art, wood products, sculpture, and holiday goods.
Friday, December 2, 2016 — Gala
Saturday, December 3, 2016 — Show & Sale
Sunday, December 4, 2016 — Show & Sale
Music Performances
Saturday, 2:00 – 3:30 pm: Flute Fantasia; Alicia Unis, Joyce Tanaka, Roberta Brokaw, Sue Rudholm
Sunday, 1:30 – 3:00 pm : Classical Guitar & Vocal Ensemble; Peter Denyer, Lucy Lanham, Vocalist Mark Loy
At our 2016 Opening Gala, we held a drawing for an original oil painting by Robyn Leimer, "Don Edwards Shack & Fields."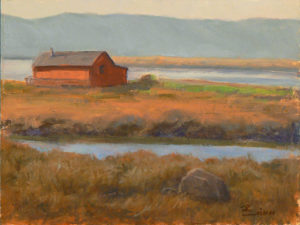 Artist Applications
Each year, new artists are invited to screen work for acceptance into the show. The screening takes place in September. Check back in the spring for 2017 show applications.
For more information, you may contact our Artist Contact at artistcontact@olivehydeartguild.org