Programs are held in the Mission Room, Olive Hyde Art Center, 123 Washington Blvd @ Mission Blvd, Fremont, from 10 am – 12 noon, refreshments provided. Programs are generally held each month except July, August, November and December.

For programs requiring an RSVP, you can submit the forms below. For questions, contact Elaina at programs@olivehydeartguild.org.
You can check out our previous programs, for an idea of the range of activities offered.
Note: Program field trips are a members-only benefit, and members may bring guests. Join the Olive Hyde Art Guild and experience friendship and fun on our next field trip!
Glass Artist Gigi Erickson Studio Visit
Wednesday, September 18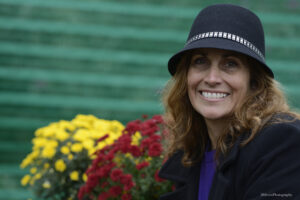 If you have always appreciated the light, color and beauty of artisan glass, sign up to meet the very talented Gigi Erickson of Erickson Arts. Watch her create beautiful artworks from molten glass. This will be magical!
Please RSVP online now: only 12 spaces. Carpooling is encouraged. Drivers & Riders will be notified by Elaina Habel on Monday/Sept 16.
Event Date: Wed. Sept 18, 2019
Time: 10 am to 12 noon
Location: Erickson Arts, 33449 Western Avenue, Union City
Bring money if you would like to purchase any items (receive 10% discount) and join us for casual lunch — Restaurant suggestions appreciated.
Be sure to scroll down and read a profile of Gigi!
Glass Art That Makes People Smile!
A Profile of Celebrated Artist Gigi Erickson
By Radhika Sharma
Gigi Erickson of Erickson Arts' work has been celebrated across the country! Excerpts from a charming conversation with this extraordinary artist.
"Every piece of glass art I make is meticulously hand sculpted.  These one-of-a-kind creations can take up to several days, weeks, and even months to produce, due to the care and precision invested into each piece of art. I always try to make something unique," says Gigi when asked about her inspirations. Fall is her busiest time of the year which includes her displays at the Los Gatos High School, Danville Art Festival and also displays in Illinois, south of Chicago.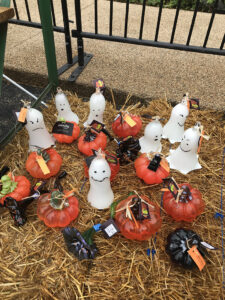 Fall is also the season when Gigi makes beautiful glass pumpkins in different sizes and colors accumulating to over 1200 pumpkins in 11 different sizes.
"My pumpkins come in every color," adds Gigi. " I love creating something that people can bring out at any time!"
Besides her signature pumpkins Gigi is much acclaimed for her hand-blown glass lamps, bowls, fruits, glass flowers, jewelry and stained glass work. Her work is on display in several galleries in the San Francisco Bay area – Pleasanton, Fremont, Benicia to name a few.
Gigi was introduced to hot glass in 1990, after a very successful career in stained and art glass windows starting in 1977.  She adds that ,"…blown glass has become my passion.  I have taken many classes at Corning from notable artists from around the world.  I opened my own studio in 2007 where I make leaded glass windows, blown glass creations, and fused glass: wall art and jewelry." Gigi's art is in homes across the country and around the world.
A teacher of the form herself, Gigi loves to share her passion for her work with her students at the adult education. Her advice for budding artists is sound – learn all you can and keep going! Gigi also offers glass blowing classes at her studio. Gigi's favorite shades are jewel tones of cranberry, blue, greens and purple.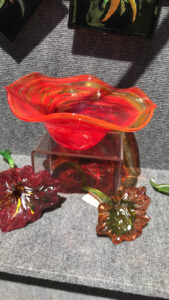 When asked to share a moment from her creative journey, Gigi shared this wonderful gem.
"Last year I was finally able to go to Murano, Italy. My friend set me up with a glass artist there and we made a carafe together. I actually got to blow glass with an Italian master! How could life have gotten any better? He also signed it with his name and my name packed it for my trip home. It was a day dreams are made of."
Erickson Arts gives a portion of its proceeds to one of two organizations: the National Kidney Cancer Association and HHT Association.
To learn more about Gigi Erickson and her work visit: ericksonarts.com