Programs are held in the Mission Room, Olive Hyde Art Center, 123 Washington Blvd @ Mission Blvd, Fremont, from 10 am – 12 noon, refreshments provided. Programs are held each month except July, August, November and December.

For programs requiring an RSVP, you can submit the forms below. For questions, contact Elaina at programs@olivehydeartguild.org.
You can check out our previous programs, for an idea of the range of activities offered.
Note: Program field trips are a members-only benefit. Join the Olive Hyde Art Guild and experience friendship and fun on our next field trip!
Making Greeting Cards with Leaves & Flowers
Presentation by Nancy Overton
Wednesday, January 24, 2018
10:00 a.m. – 12:00 noon
Mission Room
In this era of Internet, when you could send a greeting at the touch of a button, a hand-made card has acquired a whole new meaning. The effort and time that goes into creating a card, gives it a special dimension that speaks volumes about your feelings for someone. It's personal, and it shows how important the recipient is, to be deserving of such attention!
And what better time to express those special feelings for that special someone, than at Valentine's Day! Here's your chance to make some cards with Nancy Overton, who will be presenting a class on Wednesday, January 24th, at 10:00 a.m.
Nancy loves collage: "pushing pieces of paper around in space until their relationships are begging to be glued forever." She has developed a combination of watercolor and collage, using colored paper, often hand torn, and lettering. She draws her inspiration from nature, not only for the subject matter, but also for the materials used in her art. That's where the leaves and flowers come into play!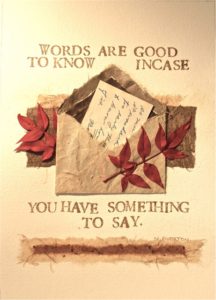 A resident of Oakland, Nancy graduated from The California College of Arts and Crafts, with a degree in painting. For many years, she worked as the Product Development Manager for Sunset Designs. She has developed needlepoint items, quilts and wood products for Peking Handicraft. As a freelance designer, she traveled to China to design a line of ribbon and floral products. Lately, Nancy has been focusing on papier-mâché birds and greeting cards for sale.
You may visit Nancy Overton on her website www.nancyoverton.com.
For the class, Nancy will provide all the materials and one greeting card per person, with more cards available for $1 a piece. Please bring some of your own pressed flowers and leaves (just put them in between pages of a heavy book to press them.)
This program is now full. If you would like to be put on a waiting list, contact Elaina at programs@olivehydeartguild.org.